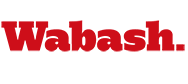 Harriers "Believe" & Finish 13th
by Jim Amidon

November 22, 2010

Marshaling a season-long theme of "Believe," the Wabash College cross country team ran to 13th place at the 2010 NCAA Division III National Championships. Paced by the All-American performance of senior Seth Einterz, the Little Giants earned their highest finish at nationals since the 1995 season.

View photos from senior cross country runner Jacob Surface here.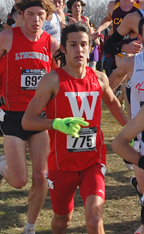 It was also the fifth best team finish in Wabash history.
"What a great day for Wabash cross country," said head coach Roger Busch. "We had a very serious goal-setting session at camp back in August and these young men were able to focus for 12 weeks, which is very hard to do. The juniors and seniors on the team know our expectations and they understand the hard work it takes to be a successful distance runner. The 13th place finish at nationals is all because they believed and dedicated themselves over the summer."
Einterz' 20th place finish in a very fast field is the best individual performance by a Little Giant since Busch finished sixth in 1995 and the eighth best by a Wabash runner since Division III was formed. The three-time national qualifier posted a personal best time of 24:44 in the blazing fast field of 279 runners. The time is the third fastest time in Wabash history.
Anders Hulleberg of Haverford won the individual title in 24:22. Only eight seconds separated Einterz from a spot in the top ten.
Einterz came to Wabash from Zionsville High School and immediately showed great promise as a distance runner. But a series of injuries and illnesses kept him from reaching his full potential until this year.
"Seth could have quit at any point in his career," Busch said of his first cross country All-American.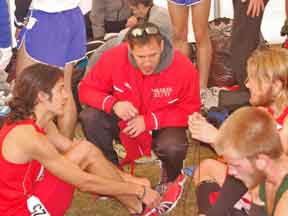 "I'm not exactly sure what kept him going, but he came into the season with the goal of being an All-American and that's exactly what he did. I've never been more proud of him than I was on Saturday when I hugged him after the race and told him, 'Great job!'"
Busch said the seeds of the 2010 season were sown immediately after the team's disappointing finish at the 2009 NCAA Great Lakes Regional. "The guys knew we were much better than we performed, so we got together right after the meet and began talking about what we needed to do to improve."
The team's performance thrilled the coach. Three juniors ran very strong races to help the Little Giants finish ahead of their conference rival, Allegheny. Kevin McCarthy finished 38th overall in 25:00, Brian David was 92nd in 25:24, and Donavan White was 115th in 25:33. Senior Justin Allen overcame late-season injuries to finish in 26:09 to round out Wabash's team scoring.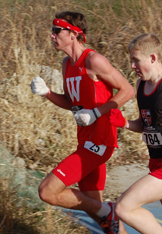 Junior Kenny Farris got his first experience at a national meet and finished in 26:35, while freshman Jake Ponton ran a time of 27:21.
McCarthy (right), who qualified for nationals as an individual last year and is an indoor and outdoor track All-American in the 800 and 1,500, respectively, got off to a rough start and had to battle through the dense field of runners, and narrowly missed All-America honors.
"Kevin ran a great race," Busch said of his talented junior. "He didn't get off to the best start and really had his work cut out for him during the race. When I saw him at the four-mile mark, he was in 60th place and he finished 38th! I can't say enough about what a competitor he is. He overcame some late-season difficulties, which took a lot of guts, and I look for him to be our leader next year."
Busch also singled out his senior co-captain, Justin Allen (above left, with Einterz and Busch), for the leadership he, Einterz, and Jacob Surface provided. "Their leadership was remarkable," the coach said. "They did everything I asked them to do, came to me when they had problems, and we worked to build the best team we could by November. I think they did a remarkable job."
Personally, Allen endured a bang-up, injury-riddled senior season. "He believed in his abilities and teammates so much that he did everything he could — cross train, rehab, and more — to make sure that he was ready when the Red Pack needed him. He passed 40 people in the last two miles to help our team finish 13th," Busch said.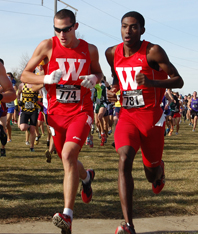 Juniors Brian David and Donavan White
(right)
show tremendous promise after making the national field for the first time. A year ago, both runners struggled with inconsistent performances and lack of confidence. This year, Busch said, they pushed one another — and the rest of the team.
"Brian was really the confidence booster Donavan needed," Busch said. "They ran side by side, pushing each other, all season; they were definitely the difference makers for us this year. We went into the season looking for a solid fifth runner, and Brian stepped up into that role, and not only that, once he started running well, he motivated the top four runners, who got hungry to run on the national level."
While only seven men were selected to represent Wabash at the regional and national championships, every member of the team attended both events, which inspired their coach.
"Every man on the roster was at the meet on Saturday, and that is the sign of a true team," Busch said. "These young men define what it means to be a 'Wabash man' — work hard, believe in your abilities, and use that confidence to perform. I couldn't be more proud."
Thanks to Dan McCarthy for the photographs!
Wabash's Top-20 Finishes at the NCAA Division III Cross Country National Championships
1973 — 18th Place
1977 — 17th Place
1991 — 16th Place
1992 — 6th Place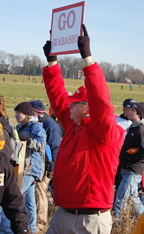 1993 — 11
th
Place
1994 — 4th Place
1995 — 3rd Place
1996 — 15th Place
1998 — 17th Place
2010 — 13th place
Wabash's NCAA Division III Cross Country All-Americans
1973 — Henry O'Connell (8th place, 24:58)
1974 — Henry O'Connell (11th place, 25:15)
1992 — Kent Baker (5th place, 25:00)
1993 — Jeremy Wright (17th place, 25:19)
1994 — Scott Gall (15th place, 25:19)
1995 — Roger Busch (6th place, 24:29)
1995 — Scott Gall (16th place, 24:46)
1995 — Jeremy Wright (27th place, 24:55)
2010 — Seth Einterz (20th place, 24:44)
President Pat White cheers on the Little Giants at the 2010 National Championships in Iowa.