Senior Seth Einterz ended his storied Wabash cross country career by running to 20th place at the NCAA Division III National Championships. His All-American effort helped Wabash finish 13th at nationals.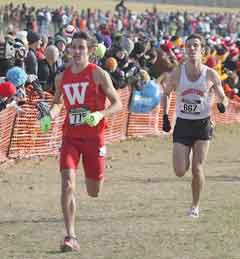 Einterz
(right)
saved his best individual performance for his final collegiate cross country competition, racing around the 8000-meter Max Cross Country Course in Waverly, Iowa in 24:44.8 for his first sub-25 minute time of the season. He became the first Wabash runner to earn cross country All-America honors since the Three Amigos — Scott Gall, Jeremy Wright, and current Wabash cross country coach Roger Busch — all finished in the top-35 in 1995.
Kevin McCarthy just missed earning a spot on the All-America team for the second consecutive season. McCarthy finished in 38th place with a time of 25:00.5, his fastest effort of the season. Last year McCarthy (below left) was the top finisher for the Little Giants, grabbing 46th place with a time of 26:20.0.
Junior Brian David finished 92nd with a time of 25:24.4, easily topping his previous season-best time of 25:58.90 set one week ago at the NCAA Great Lakes Regional. Fellow junior Donavan White finished 115th with a time of 25:33, also a season-best effort.
Senior Justin Allen brought his cross country career to a close with a season-best time of 26:09.6 to finish 200th overall. Junior Kenny Farris took 242nd place in the field of 279 runners, crossing the finish line in 26:35.8, topping his previous season-best time of 26:43.30 set last weekend at the regional championship race. Freshman Jake Ponton ran a time of 27:21.5, eclipsing his best time of the year by less than a second to finish 267th.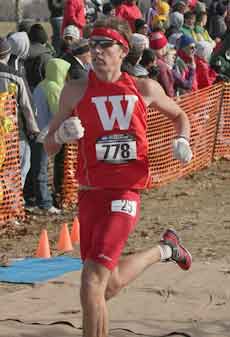 The Little Giants, competing as a team at the nationals for the first time since 1998, scored a total 354 points to finish 13th in the 32-team field. Haverford won the team title with 87 points, while North Central grabbed second place with 104 points. Wabash was the top North Coast Athletic Conference team in the final standings, outdistancing Allegheny (15th; 395 points) and Ohio Wesleyan (27th; 688 points). Allegheny entered the championship meet ranked 17th in the nation by the US Track and Field and Cross Country Coaches Association, while Wabash was ranked 24th. The Little Giants finished 17th as a team in 1998, with its best finish coming in 1995 with a third place finish.
Haverford's Andres Hulleberg won the individual title with a time of 24:22.2.
Home page photo courtesy of Dan McCarthy.