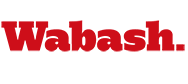 Little Giants Benefit from Offseason Work
by Matt Wilson
The Journal Review

November 18, 2010

Each year Wabash senior Seth Einterz has made it to the national cross country meet, he has been joined by more and more of his Little Giant teammates.

After being the lone Wabash representative in the 2008 nationals, Einterz was joined by teammate and fellow Zionsville High School graduate Kevin McCarthy last year. Einterz qualified for his third straight national meet after taking second at last Saturday's Division III Cross County Regionals at Hope College in Holland, Mich.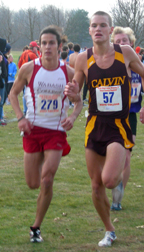 When Einterz (right) steps to the line for Saturday's national meet in Waverly, Iowa, he will see even more of his teammates with him. With the top two teams from the regional meet advancing to nationals, Wabash finished second out of 33 squads and for the first time in 11 years will bring an entire team to a national meet.
Wabash was one of 16 teams to gain an automatic berth to nationals, while 16 more squads were picked as at-large selections to complete the 32-team field.
"It means a lot to get to nationals just because of what has happened to us the last two years at regionals," senior Justin Allen said. "Two years ago we placed sixth at regionals and the top five
advanced to nationals, then last year we placed 12th when we felt like we had the talent to make it to nationals.
"When something like that happens, it kind of stabs you. We had a great start to the season, and it has paid off finally."
The Little Giants' quest for the national meet started in the offseason. Junior Kenny Farris said he logged more miles last summer than he has any other. Because of an on-campus job at Wabash, Farris remained in Crawfordsville during the summer, and would always train with a couple of the other runners who remained on campus. Farris kept in constant contact with coach Roger Busch during the summer. Busch ran for the Little Giants from 1992-95. Wabash finished third at nationals Busch's senior year.
"I would run a lot with a couple of the other runners," Farris said. "I was just getting excited because I knew some of our other runners throughout various parts of the country were training just like us. It just got me excited for August when we would all come together as one and knew we would have a solid team."
Junior Donovan White agreed with Farris.
"The ones who had hometowns close to each other would train during the summer," the Ben Davis graduate said. "We all just had a great summer, and that gave us a good start to the season."
While many of the runners were familiar with each other when team camp started, there was one new face to the group. Freshman Jacob Ponton, a Lake Central High School graduate, emerged as the lone freshman to make the varsity team.
"When I came in here as a freshman I didn't know much about running an 8K race, so the upperclassmen have been great helping me with the workouts," Ponton said. "If they saw me falling behind in a workout, they would start motivating me to get up and run with them."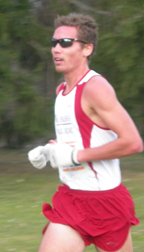 The runners saw the benefits from their offseason training early in the season. In their opening meet of the season, the Little Giants won the 49th annual Wabash Hokum Karem with a perfect six points. Farris and classmate Kevin McCarthy (right) won in 28:52, which was 45 seconds off the meet record. White and Allen placed second in 28:56, while Einterz and sophomore Jake Waterman were third in 28:57.
Wabash followed that with another first-place finish — taking the Little State Division of the Indiana Intercollegiate Cross Country Championships with 38 points. Wabash's nearest competitor was DePauw, which had 91 points.
Continuing to improve throughout the season, the Little Giants took momentum into the regional after taking second at the North Coast Athletic Conference Meet at Southmont High School. Behind Einterz's First Team All-NCAC performance, Wabash scored 64 points to only come in second behind seven-time conference champion and nationally-ranked Allegheny, which won with 35 points.
Following the conference meet, the Little Giants had two weeks to prepare for the regional. Busch wanted Einterz and McCarthy to go out with the front pack, then White and junior Brian David to run together. The Little Giants followed that plan, with Einterz taking second and McCarthy finishing fourth. Einterz finished in 25:10, while McCarthy provided a season-best time of 25:17. White and David then turned in season-best times, with White placing 30th in 25:57 and David 34th in 25:58.
"We had a plan and we executed it perfectly," McCarthy said. "Everything just worked out to a 'T' and it couldn't have been any better."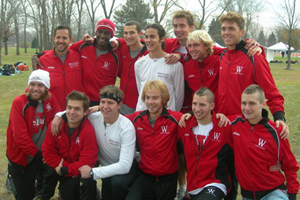 Einterz said Allen's leadership has played a big role in getting Wabash to the national level. When the Little Giants arrived for team camp, Einterz saw more confidence in Allen, and that attitude filtered down to the remainder of the runners.
"During the track season last year I started to see my potential," Allen said. "I would finish high in meets and broke three school records. That showed me that I could race at that level, and this summer I gained more confidence in myself with every mile I ran."
While Einterz and McCarthy might be the only Little Giants who have experienced a national meet, Einterz doesn't think that will be much of an issue Saturday. On Oct. 9, the Little Giants placed third out of 24 teams in the Dan Huston Invitational, which was on the same course as Saturday's nationals.
"A lot of these guys have been in plenty of races, and there isn't that different of an approach from one race to another race," Einterz said. "We have had to reset our goals since we made it to nationals. Finishing in the top-10 as a team is our ambitious goal, but it's definitely a possibility."
For Einterz and McCarthy, there personal goal is to reach All-American status — something they have been unable to do in previous nationals trips.
With Einterz and Allen as the lone seniors competing Saturday, the potential is there for Wabash to start a tradition of making the national meet.
"It is great to make the national meet as a freshman," Ponton said. "It gets me excited to get back there the next three years."
Matt Wilson is the sports editor for the Crawfordsville Journal Review.