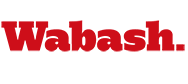 Wabash Opens with 15-Point Hoops Win
by Brent Harris

November 16, 2010

A 7-0 run by the Little Giants in the final minutes of the first half helped Wabash to a 66-51 win Tuesday night over Marian University in the 2010-2011 basketball season opening game at Chadwick Court.

View photos from the Little Giants' win here and here.

Marian's Jordan Tucker had cut the Wabash lead to 24-22 with 4:20 left to play in the opening period before Wabash scored on its next three possessions to jump in front by nine. Wes Smith scored two of his team-high 18 points on a steal and finger-roll layup just ahead of a three-point basket by Aaron Zinnerman.
The Knights would draw as a close as three points in the opening moments of the second period, thanks in part to a three-pointer by Brandon Malone. Wabash responded with another big run, this time a 10-0 difference over a period of two minutes to move in front 48-35. Marian would get to within seven, but the Little Giants quickly jumped back in front by 14 thanks to a dunk and a jumper from the right baseline by Smith and a layup by Nick Curosh.
Wabash dominated the boards, grabbing 40 total rebounds with 13 offensive boards leading to 14 second-chance points. The Little Giants shot 47.3 percent from the field on 26-of-55 shooting, while Marian was 21-of-54 for 38.9 percent.
Zinnerman joined Smith in double figures, scoring 11 points including 4-for-4 shooting from the free throw line. Wabash was 11-of-14 from the stripe, while Marian went 4-of-9. The Knights hit just one free throw out of six attempts in the second period.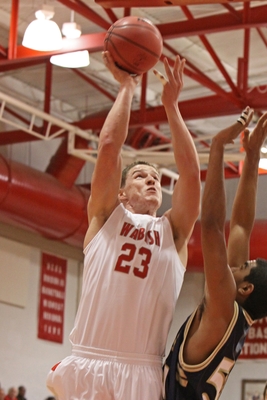 Smith grabbed eight boards and had five steals to pace the Little Giants. Ben Burkett scored six points and had seven rebounds. Brian Shelbourne dished out five assists and scored eight points, while freshman Pete Nicksic tossed in eight points in his Wabash debut.

Aaron Evans came off the bench to lead Marian (0-1) in scoring with 16 points. Tucker added 12 points and had seven rebounds.

Wabash (1-0) will serve as the hosts for the 2010 Little Giant Tipoff Classic this weekend. Play begins on Friday at 6 p.m. between DePauw University and Franklin College. The Little Giants will play Earlham College at 8 p.m. DePauw and Earlham square off Saturday at 1 p.m., while the Classic concludes with a 3 p.m. contest between Wabash and Franklin.

Photos - (top left) Senior Wes Smith scored a game-high 18 points in Wabash's 15-point victory over Marian University Tuesday evening.

(Bottom right) Senior Ben Burkett scored six points, grabbed seven rebounds, and made three blocked shots.




Results: Wabash 66, Marian Univ. 51 Game Stats