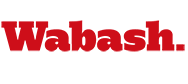 Football, Cross Country Receive SAAC Weekly Honors
by Kenny Harris '13

November 16, 2010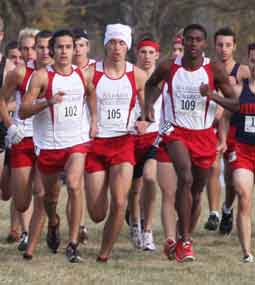 Due to the outstanding results posted by the football and cross country teams last weekend, the Wabash College Student-Athlete Advisory Committee has changed the SAAC Player of the Week Award to the SAAC Team of the Week. Each team will receive the Award for the period ending November 14, 2010.
Last Saturday, at the NCAA Division III Cross Country Great Lakes Regional, the entire Wabash cross country team qualified for the national championship meet for the first time since 1998. The Red Pack placed second overall in the team scoring, distancing themselves comfortably from Albion and Ohio Wesleyan to secure the automatic bid. Senior Seth Einterz came extremely close to claiming the individual title but ended up in second place with a time of 25:10. Junior Kevin McCarthy took fourth place with a time of 25:17. Overall, six Wabash runners posted their fastest times of the season to help the Little Giants to their amazing finish.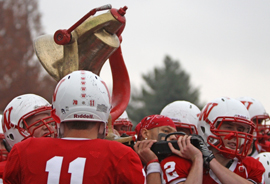 On top of the astounding performance from the cross country team, the Wabash football team beat a previously undefeated DePauw team 47-0 in the 117
th
Monon Bell Classic. The Little Giant defense held the Tigers to only 95 total yards while Wabash finished with 498 total yards. The result tied for the third-largest scoring margin of victory in series history and tied the largest margin since 1932 when the Bell became a part of the rivalry. The shutout was also the first since 1967 when Wabash won by a score of 7-0.
The SAAC Little Giant Player of the Week award is a selective process in which the SAAC board, composed of representative athletes from each varsity sport, votes on players who have been nominated by their coaches, based upon the athlete's performance during the past week. The Player of the Week award is announced every Tuesday on the Wabash Sports Home Page.