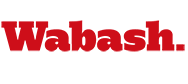 Four Wabash Men Joing TFA Classrooms
by Jim Amidon

November 10, 2010

When Jeremy Robinson shunned promising job and graduate school offers and signed on with the Teach for America program in 2004, he charted a path that—six years later—more than a dozen Little Giants have taken.

The Teach for America program recruits a few thousand high-achieving college graduates each year and places them in the nation's poorest-performing urban and rural public schools. Robinson '04 spent a year at Chicago's Harper High School before becoming a Rhodes Scholar. Now, having earned his master's degree from Oxford, he's back in Chicago and teaching in a public school.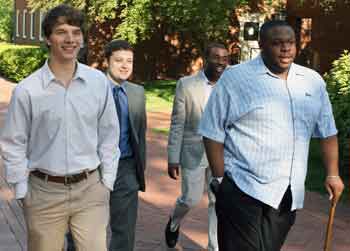 The program strives "to eliminate educational inequity by enlisting our nation's most promising future leaders in the effort." Although TFA reports significant educational gains by students taught by corps members, the ultimate goal is to populate the country with young leaders who have learned in the trenches and who then parlay those experiences into reform and action.
This year, four Wabash seniors were selected to be corps members—Gary James, Patrick McAlister, Brandon McKinney, and Spencer Elliott. James, McAlister, and Elliott all came to Wabash intending to go to law school, then on to politics or public service. McKinney made it three physics courses into the 3:2 engineering dual degree program before he shifted his focus.
In fact, very few TFA corps members enter college planning to teach in public schools.
James, a rhetoric major who won the O'Rourke Prize in Rhetoric and was twice named the Jim Leas Outstanding Student in Journalism, sees his immersion in a special education program in Washington, DC as the first step in his career in public service.
"I was the traditional political science major who planned to go to law school, run for office, and change the world," James says with a grin. "Teaching wasn't on my radar, but community service was. I thought politics would be the way to serve others."
His time at Wabash, his experience organizing for the Obama presidential campaign in Crawfordsville, and a National Public Radio "Morning Edition" internship changed his thinking entirely.
"I now believe that politics doesn't change things," he says. "People and groups of people make change."
James switched his major to rhetoric and began to study human communication. He turned down possibilities for grad school and a return to NPR to join Teach for America.
"I joined TFA because it's a group of people who are all on the same page, both in terms of solving problems and the belief that a group of educated, informed people can solve problems."
James was inspired by Wabash rhetoric and political science professors.
"I'm amazed by how much they trust us," he says. "Through the question and answer Socratic method here, they make known to us what we don't know. They nurture in us the desire to learn more.
"My goal with Teach for America will be to create more curious students. Our philosophy here at Wabash is to instill a desire to know. That's what I want to instill in my students, something that will stay with them all their lives."
Brandon McKinney's plans to become an engineer — and physics grades — faded early in his time at Wabash. He opted to take a year off from the College, and returned to his hometown, San Antonio, where he worked in a public school preparing low-income kids for the rigors of college.
"In that year I was away from Wabash, I was able to see the impact I was having on those kids," he says. "I saw that I was changing lives."
Joining the Malcolm X Institute of Black Studies' KQ&K mentoring program when he returned to Wabash had a powerful impact on him.
"You develop a different kind of relationship with those kids; it's more like a friendship, and those friendships have helped inspire me to become a teacher."
J.J. Guthrie '05, a former Teach for America corps member, talked to McKinney about the program, and he realized that the goals of TFA matched his own.
McKinney will be placed at an elementary school in San Antonio—a school with significant problems. But the rhetoric major isn't too nervous.
"I never get nervous," he says confidently. "I'm very excited about this opportunity. I don't know what's going to come or how it will work out. But more than anything, I'm looking forward to the experience."
Like all corps members, McKinney will study for five weeks at TFA's Summer Training Institute, where he will learn how to prepare for and manage a class, develop lesson plans, and establish a teaching style.
Managing a classroom shouldn't be much of a problem for Patrick McAlister, who after editing The Bachelor at Wabash as a junior, graduated in seven semesters and began working on a political campaign while his fellow seniors finished up last spring.
You would expect the political science major to be tapped to teach government, but TFA has assigned him to a science class in Charlotte, North Carolina. Now he's grateful that Wabash has lab science requirements.
"In the second semester of my junior year, I began Chemistry 101 and I was lucky," McAlister says. "Professor [Scott] Feller team-taught that course. He showed us the most basic parts of his world with the same sense of excitement and awe that one would expect Fleming felt when he accidentally discovered penicillin. He approached basic chemistry with the heightened exuberance he wanted his students to have.
"I hope I can push students to see the physical world the way Dr. Feller does."
McAlister has no plans to continue teaching after his two-year stint in the corps. He hopes the experience will help him become a more effective advocate and public policy maker for education.
"I want developing quality education policy to be part of my career," says McAlister, who spent summers interning in political offices. "Often those who construct education policy are criticized for not understanding what it's like 'in the trenches;' they may have read academic studies, but they may never know the day-to-day struggles of a teacher. I hope that my Teach for America experience provides me with the groundwork to be an effective advocate for students."
If you had to guess Spencer Elliott's major at Wabash, you'd surely bet that it was theater. Elliott appeared in 11 Wabash theater productions, including the leading role in The Elephant Man in his first semester on campus.
Yet the talented Dean's List student pursued political science as his major and studied in Israel with Professor Phil Mikesell '63 in an Immersion Learning course.
His time on the Wabash stage, though, ignited a passion in him, fueled by his mentor, Associate Professor of Theater Michael Abbott '85.
"Professor Abbott has been my inspiration to pursue theater as more than a hobby or side project," says Elliott. "Being around him taught me that to make good theater, you have to make it a priority in your life; it's a full-time pursuit."
He was accepted into graduate programs in acting, but a conversation with a regional representative for Teach for America provided a powerful turning point.
"I was struck by her passion for the program," Elliott says of Lauren Secetore, who recruited him for TFA. "I also realized that to be a successful actor, I need more real life experiences. So I decided to take some time off from theater, and I will re-apply to graduate programs after I've completed the [TFA] program."
Elliott, who will spend the next two years in a special needs high school classroom in Washington, had motivated and committed teachers at Fort Wayne's South Side High School, one of the most diverse schools in the nation. "In my eyes, it was a poor school in an ethnically diverse neighborhood charged with racial tensions, yet it worked because of committed teachers and administrators.
"I want to take what I learned there and at Wabash, and model that commitment to good teaching for my students in Washington."
James, McKinney, McAlister, and Elliott join a growing group of Wabash graduates who are putting off their career plans to spend some time in the trenches so that they might shape and develop a more equitable educational system for the nation's youth. And along the way, they—by example—extend what they've learned in the Wabash classroom to ignite intellectual curiosity in the young people they serve.
In photo: From left, Elliott, McAlister, James, McKinney