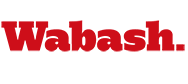 Big Student Crowd Fills Top 10 Visit Day Activities
by Howard Hewitt

November 5, 2010

Wabash College continues to draw the best and brightest if Friday's Top 10 Visitation day is any indication. One of the biggest crowds in the recent history of the program came to Crawfordsville to learn more about becoming a Wabash man.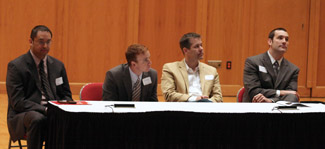 The program is for high school seniors who rank in the top ten percent of their class after six semesters. Upon completing the necessary qualifications and attending, participating students receive a Top Ten Scholarship with an annual value of $15,000. If a student is in the top five percent of his class, the scholarship is $17,500 annually
The students registered at the Allen Center because of the big turnout, were welcomed in the Chapel, and then moved to the Fine Arts Building for the day's program to begin.
Wabash alums from all walks of life were featured on panels for students and parents.
The panelists included Pat East '00, entrepreneur, Tony Caldwell '07, Nestle Corp., Dan Schenk '95, Nike, Kris Gun '02, urologist, Brian Clem '04, Lilly, Kyle Falconbury '96, an actuary, Evan Brown '97, Cyber Attorney, and Charlie Shrode '03, Medical Resident.
The panelists talked about their decision to attend Wabash, how little they originally knew about the liberal arts and how much it's helped them in their careers. They answered a wide range of questions.

Pat East, who owns a marketing company and software development company, had no idea about the liberal arts when he first chose Wabash. "But I knew I wanted to own my own business," he said. "It's who I wanted to be, the kind of guy who chose his own path."
Caldwell talked about his experience doing a summer internship at Cornell with Professor of Chemistry Ann Taylor. Schenk talked about how the thinking skills he learned at Wabash are put to the test every day doing marketing work for Nike.
All of the students attended an academic session right after lunch then resumed tours and meetings with faculty and coaches before the program concluded.
The parents program featured a panel on immersion learning and financial aid.