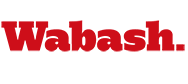 Wabash vs. Wittenberg: For All The Marbles
by Brent Harris

November 5, 2010

The scenario is a simple one — the Wabash football team needs to win Saturday to take the 2010 North Coast Athletic Conference title and earn its fourth consecutive trip to the NCAA playoffs. Standing in its way, however, is the undefeated, ninth-ranked Wittenberg Tigers team.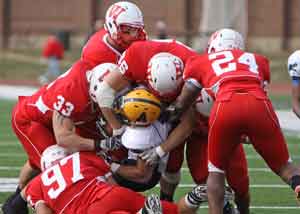 The Little Giants and Wittenberg have won or shared the last six NCAC titles. Both earned two of the 32 berths available in last year's NCAA Division III playoffs. The Tigers secured the conference's automatic bid with a 10-7 win at Wabash on a last-second field goal by Zach Harris. Wabash received an at-large bid with a 9-1 regular season record.
Harris' field goal to win the game should have come as no surprise to anyone familiar with this intense rivalry. Four times in the last eight meetings between the two schools a field goal — either made or missed — has provided the difference in the contest.
Despite several key injuries, the Little Giants have put themselves back in position to claim their sixth league title since joining the NCAC in 2000 for football. A 20-3 victory last Saturday over Allegheny set up this weekend's title showdown with the Tigers. The Wabash defense held Allegheny to 200 yards of total offense, with Gators picking up 80 of that total on its only scoring drive in the closing minutes of the first half.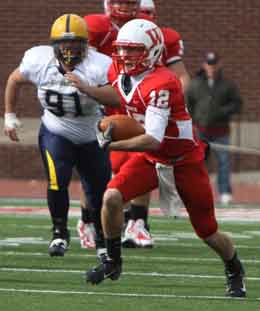 Junior Tyler Burke threw for 168 yards and ran for the only offensive touchdown of the game against Allegheny. The Little Giants got two field goals from senior kicker Spencer Whitehead and a fourth punt return touchdown of the season by Jonathon Koop.
Burke (right) started his second game of the season for the injured Chase Belton. Both players practiced this week, with a game-time decision by Wabash head coach Erik Raeburn determining the starter against Wittenberg.
The Tigers have picked up in 2010 where they left off last season. Wittenberg posted a 10-0 record last year and advanced to the quarterfinals of the NCAA Division III football playoffs before losing 31-13 to eventual national champion Wisconsin-Whitewater. Fourteen starters are back from that 2009 team, including D3football.com Defensive Player of the Year Eddie Vallery.
Vallery and his defensive mates lead the North Coast Athletic Conference in scoring defense (10.4 points per game), total defense (213.2 yards per game), and passing defense (123.2 yards per game). Vallery is third on the team in tackles with 50, and has four tackles for losses and 2-1/2 sacks this season. Senior linebacker Brad McKinley tops the defensive list with 79 tackles, including eight tackles for losses and 3-1/2 sacks. Zach Hurtt has 58 tackles to go with three interceptions and four tackles for losses.
Junior quarterback Ben Zoeller has been one of the best in the league this season, throwing for 2,265 yards (124-192-2) and 21 touchdowns. Junior wideout Josh McKee has 50 receptions for 1,107 yards and 14 scores, setting the NCAC single game TD reception record earlier in the year with five against Washington-St. Louis. McKee leads the nation in receiving yards per game with a 138.38 average. Michael Cooper has 24 catches for 353 yards and three scores, while Anthony Kralich has 22 receptions for 391 yards and four TDs.
Corey Weber averages 74 yards per game, ranking him second in the NCAC in rushing. He has scored seven touchdowns and rushed for 592 yards in 115 attempts. Conner Warye has added six rushing touchdowns and a 56 yards-per-game average in tandem with Weber in the backfield.
Raeburn knows his team need to play its best to have a chance at beating the powerhouse Tigers.