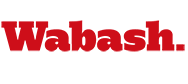 Westphal Helps Make Crawfordsville Skate Park a Reality
by John Dykstra '13

November 4, 2010

After four years of raising money and imagining the possibilities,the dreams of Professor Chad Westphal and Crawfordsville youth have come true. A local skate park has been built and will be dedicated at 11 a.m. Saturday morning at Milligan Park.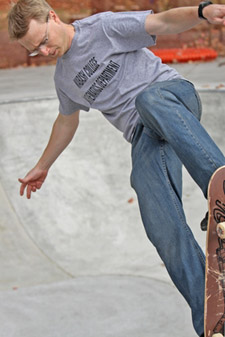 See photos albums here and here.
Westphal's contribution began after attending a fundraiser at Applebee's. He said part of being humane is being aware of your surroundings.
"If you are living humanely, part of that is just paying attention to the world around you," he said. "I didn't go looking for this project, it just landed on my plate and I was happy to take it up. When there are things that come up where you can contribute, where you can make a difference, give it a shot. Go and put your time and effort into that, put your own comfort aside to try to make that work."
Crawfordsville had places to play basketball and football but nowhere to skateboard.
"All the positive things you hear about sports, the motivational speeches about what I learned in basketball and how soccer changed my life — all of that happens in skateboarding, as well," Westphal said. "I learned discipline through skateboarding and I learned how to be patient. I learned the scientific principle behind it."
Westphal was able to see the kids in town and some of the struggles they were going through as a parallel situation to when he was a kid. The skate park was designed around the interests of local skateboarders. He used his experience as a skateboarder to design the park.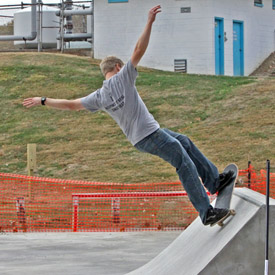 "I worked with groups of kids in town to start a design. The kids around here primarily grew up skateboarding on stairs and rails. I've seen kids skateboarding on the stairs at Baxter."
The skateboarders wanted stairs and rails as part of the new design. Westphal's skateboarding experience led to a compromise; he had bowls and ramps installed and made the design more diverse.
Though he was the general contractor, Westphal does not want to be known as the 'skate park guy.'
"This is not just me stepping up and doing this project, it's a big community effort. And I've seen almost nothing but uniform, positive support from everybody. We've asked for help from lots of people and companies in town. Our message is very clear. We want a good, safe place for these kids to go. And everyone we talked with was more than willing to step up and make that happen.
"It's rewarding to be able to see the whole community rally around something like this because the whole community can't help but know this is going on here."
David and Sheridan Hadley have also assisted in the skate park effort.
Not everyone on campus may be aware of the new skate park but there are those who noticed Westphal's efforts.
"He's assumed tremendous responsibility and has given literally hundreds of hours to make the project successful," said Jim Amidon, Director of Wabash Public Affairs. "It's rare when people commit this much time and energy into a community project, and what Dr. Westphal has done will provide a lasting example of a terrific town-gown partnership."