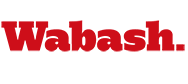 Rokita '92 Wins Seat in House of Representatives
November 3, 2010

Wabash men across Indiana competed for public office in Tuesday's general election. The biggest prize was won by Todd Rokita '92. The Secretary of State won a seat in the U.S. House of Representatives.

Rokita claimed the seat previously held by Stephen Buyer. He will be the representative for Montgomery County as part of the fourth district. He defeated David Sanders with 69 percent of the vote.
Jesse James '08 was trying to become the youngest person ever elected to the Indiana House of Representatives. He lost to GOP incumbent Bruce Borders 57-43 percent.
Charlie White '92 defeated Democrat Vop Osili to claim Rokita's current position.
In Crawfordsville, Joe Buser '76 was unopposed as Montgomery County Prosecutor. Buser claims his fifth term. Political Science Professor David Hadley lost his race for a seat on the Montgomery County Council.
Elsewhere, Jim Joven '89 was re-elected judge for Lawrence Township Small Claims Court in Indianapolis. Nick Bourff '04 was elected prosecutor in Starke County, Indiana.
We'd be happy to add any other successful Wabash candidates to this story. Just send all pertinent information to: hewitth@wabash.edu