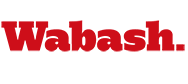 Wabash Defense Dominates Gators, 20-3
by Howard Hewitt

October 30, 2010

Wabash's Little Giants are now 7-1 or 1-0 after defeating Allegheny, depending on how you view it. Wabash's defense stifled the visiting Gators to claim a 20-3 NCAC win. The win starts the toughest three-game stretch of the season.

Since the 2010 schedule was released fans and even team members have pointed to the last three games — Allegheny, at Wittenberg, and hosting the Monon Bell Classic against DePauw — as a really tough three-game challenge.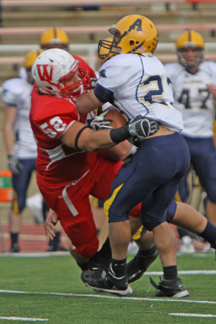 The Little Giant defense took care of matters in game one of the closing trifecta.
"They have a great quarterback, a fifth-year senior who completes like 70 percent of his passes and they're able to run the football," Head Coach Erik Raeburn said. "I'm super proud of how hard our defensive guys played and how well our defensive coaches prepared them. For the defense to hold them to three points and get a score themselves, I thought they played tremendous."
The defense held the 5-3 Gators to 200 yards of total offense, but 80 of that came in one drive just before the half. Allegheny got its only score on that drive, a 27-yard Ryan Zipf field goal.
The Gators managed just nine first downs and mustered only 89 yards passing.
"We know who we are and all season we've known our potential," said senior linebacker Deonte Singfield, who had an interception with a TD called back because of a penalty. "It was senior day and we had fun flying around.
"We had an appreciation thing this morning for the most influential male in our lives and a lot of guys had this extra emotion because a lot of dads came out."
Singfield had six tackles along with Sam Smith, Dan Ryan Wood, and Jake Kolisek. C.J. Gum led Wabash in stops with nine. Kolisek recorded two sacks with Nick Ramsey and J.D. McClintic each getting to the quarterback as well.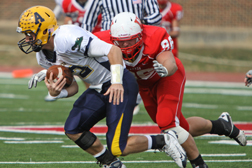 "Coach (Jake) Gilbert talked all week that he wanted a shutout," Singfield said. "We gave up three, but we played lights out all day. It was a big deal today, the ability to play for each other and a lot of guys stepped up."
The defensive turnaround has come in the last three weeks after Raeburn challenged the defensive line to put more pressure on opposing quarterbacks.
"We felt like going into the season we had so many veteran guys returning that the defensive line would be a strength of our team," Raeburn explained. "We just weren't getting any pressure early in the year. We've played the run solid all year long, but just weren't getting any sacks. So a few weeks ago we really challenged them and since then we've had great pressure on the quarterback. Our defensive coaches have made some changes to try to help them generate a better pass rush."
Wabash got on the board on its first possession of the game — a Spencer Whitehead 24-yard field goal. Tyler Burke, starting his second straight game, scored on a six-yard run early in the second quarter to stake Wabash to a 10-0 lead. Allegheny got its score with just two seconds left in the half, thanks to a 15-yard Wabash roughing the passer penalty.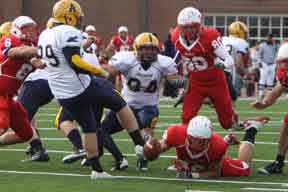 Whitehead added his second field goal of the game late in the third period after the teams played most of the quarter exchanging punts. The clincher came on what is fast becoming one of Wabash's best weapons, the punt block.
The Little Giants freshman Nate Scola blocked a punt with just under nine minutes to play and for the fourth time this year sophomore Jonathan Koop was there to pick it up and score. His four punt returns this year is a Wabash College record and leaves him one shy of an NCAA record.
Offensively, the Little Giants struggled at times. Gheny came in as the top-ranked rushing defense in the NCAC. Wabash gained 85 yards on the ground with Burke picking up 52 of that.
The Gators also shut down receiver Jon Horn's streak of 100-plus yard games. Freshman James Kraus stepped up to lead Wabash receivers with eight catches for 70 yards.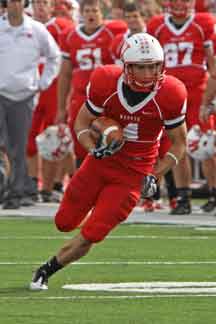 "They doubled Jon the whole game," Raeburn said. "They'd either roll the corner up in his face and play the safety over the top or they locked the outside backer underneath him and played the corner over the top. Obviously, we have to try to do things to keep him involved. I don't know if we need to move him around, but we have to do a better job of getting him involved because he's too good of a player to let teams double him the whole game."
Along with Whitehead's two field goals, the kicking game was solid. Punter Thomas Ballard had to kick eight times and averaged 39.4 a kick with a long of 49.
Wabash had two scores called back because of penalty. One of the two was a beautiful Dan Ryan Wood punt return negated by a block in the back call. The other call particularly irked Raeburn after Singfield's interception and score. The official called Wabash for unnecessary roughness against a defenseless player.
Burke hit on 21-of-34 passes for 168 yards in his second start. Afterwards, the junior quarterback agreed he was beginning to find a comfort zone. "Yes definitely, they have a very tough defense, very," the Kalamazoo, MI., native said. "This week we knew they'd come out with more pressure and they were going to hit hard. I was getting hit on almost every play but I'm starting to trust my line more. I'm staying in pocket longer and they're giving me time. We're just looking forward to next week."
Next week, of course, is a trip to defending NCAC champion Wittenberg. The Wabash-Witt game annually goes a long way to deciding the conference winner and NCAC playoff participant. The Tigers are unbeaten and had a bye week Saturday.
In Photos, top to bottom: Defensive lineman Jake Kolisek with the tackle. J.D. McClintic records a sack. Freshman Scola blocks a punt. Bottom, Kraus with one of his eight catches.