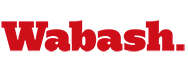 Mentors Making Impact on Community Youth
by Alex Moseman '11

October 29, 2010

Every Thursday afternoon a growing number of Wabash students are making an impact on the future of young boys in the Crawfordsville community. The Wabash Chapter of College Mentors for Kids commits to spend two hours every Thursday mentoring local elementary students in grades 1-4.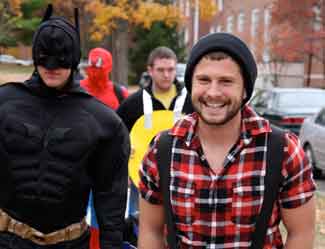 More importantly the club aims to make a positive change in the lives of these students. The mentors took their little buddies Trick-Or-Treating around campus Thursday evening. See a photo album here.
"There are a lot of organization that claim to change lives and I fully believe that our can do that when done correctly," CMFK president Jake Ezell said. Ezell is a first generation college student himself. "I don't regret anything about the way that I was raised, but going to college is an expectation that a lot of these kids don't have. "
That's an expectation that the members of CMFK are working to change. "When I was young I wasn't expected to go to college, I want to prove to these kids that going to college is something that is possible," said Zach Kacprowicz, also a first generation college student and freshmen from Fort Wayne.
Every week the mentors plan activities to expose the kids to different facets of college, from where they live to, the sports they play, to what they study.
"Everything is fun," said Kacprowicz's little buddy Jason, a first grader. "We get to do lots of cool stuff."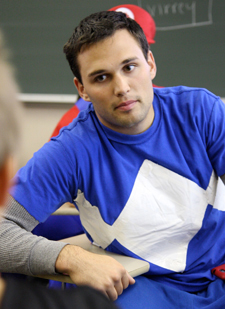 Vince is a third grader who really looks forward to his Thursdays with Wabash men. "You can tell how much they want to be here and the most rewarding part is just to see how much they enjoy it," said Nick Schrader, sitting with Vince in his blue Power Ranger costume.
And while most of the mentors in the program have aspirations other than working with children, many now see that power and importance of working within a community.
"It's been eye opening; I wanted of get involved in the community, and now I'm inspired to continue that work," Schrader said.
CMFK is working to change the lives of the children it mentors. The Wabash men in CMFK come to realize the work is changing their lives as well.
In photos: Above right, Jake Ezell during the Trick-Or-Treat event. Lower left, Schrader talking about the CMFK program.