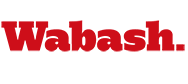 Rice, Maguire To Announce 117th Monon Bell Broadcast
by Brent Harris

October 14, 2010

Wabash College, DePauw University, and HDNet have announced that Kenny Rice and Paul Maguire will serve as the booth announcers for the 117th Monon Bell Classic on Saturday, November 13, 2010.

Rice will anchor the broadcast as the Monon Bell Classic play-by-play announcer for the fifth time, while Maguire will serve as the analyst and will attend his first Monon Bell game. The duo currently serves as HDNet's announcing crew for the network's United Football League telecasts.

"This is my 40th year of announcing football games on television, and I don't think I've ever broadcast a game with this kind of tradition," Maguire said. "The Monon Bell is historic. For the past year-and-a-half, Kenny and Darrell Ewalt (executive producer of sports for HDNet) have told me many times how special this game is. I can't wait to see it for myself, and am thrilled to be part of the telecast."
Rice is a veteran sportscaster, working with NBC, ESPN, FSN, and HDNet at various times during his career. He has covered numerous college football, basketball, and baseball games in additional to working horse racing and equestrian events for network. He served as a boxing reporter at the 2004 Olympic Games and an equestrian reporter during the 2008 Olympics. Rice has also been a reporter for NBC's Football Night in America covering weekly NFL games.
Rice has done play-by-play for HDNet since 2003, calling college football and basketball including the annual Wooden Classic and Wooden Tradition, boxing, horse racing, and mixed martial arts.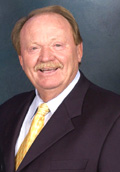 Maguire played for 11 seasons in the American Football League. He was a punter and linebacker for the Los Angeles and San Diego Chargers from 1960 to 1963 before joining the Buffalo Bills in 1964. Maguire played college football at The Citadel, leading the nation in touchdown receptions with 10 in 1959. He played in six of the ten AFL championship games and set all-time league records in total punts and punt yardage. He is a member of the Youngstown, Ohio and the Greater Buffalo Sports Halls of Fame. Maguire has a connection to Wabash College as both he and former Little Giant tight end Pete Metzelaars '82 were both named to the Buffalo Bills' Silver Anniversary Team in 2009.
Maguire moved to the broadcast booth in the 1970s, working with NBC, ABC, and ESPN broadcasting NFL and college football games throughout his career. He served an announcer for four Super Bowls (XXIII, XXX, XXII and XXVII).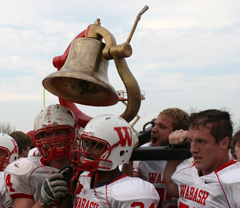 Kickoff of the 117th Monon Bell Classic is set for 1:07 p.m. at Sewell Field at Hollett Little Giant Stadium. Wabash holds a one-game lead in the overall series (54-53-9) after a 32-19 victory in Greencastle last season. The game will be broadcast by HDNet beginning with the pregame at 1 p.m. This season marks the sixth time the network has provided game coverage of the event (2003, 2006-2009). National telecast parties will take place in nearly 60 cities. More information regarding those parties is available here.
Tickets for the game are $15 and can be purchased for the Wabash side of field online at the Wabash College Bookstore or by calling 765-361-6271. View more details regarding ticket sales here.