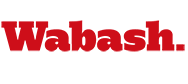 Little Giants Hang With Sixth-Ranked OWU
by Brent Harris

October 13, 2010

Wabash matched the sixth-ranked Ohio Wesleyan University soccer team for 65 minutes Wednesday night before two second period goals led to a 2-0 victory for the Battling Bishops in Delaware, Ohio.

The Little Giants nearly equalled OWU's shots-on-goal total in the first period, putting three shots on net compared to four for the Bishops. Ohio Wesleyan (9-1-2, 2-0-1 NCAC) fired wildly all night, taking a total of 30 shots but only managing to get only 13 anywhere near the goal. Wabash took just eight shot attempts, with five forcing saves from the goalkeeper.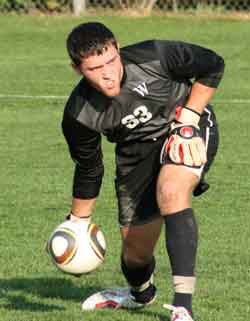 "We were able to keep Ohio Wesleyan at bay for over 60 minutes," Head Coach Roberto Giannini said. "It was an even game in the first half. Both teams had a couple of chances in the second half. I think a little bit of fatigue set in for us with a couple of players missing from the lineup and some guys playing through injuries and illness. Ohio Wesleyan took advantage of a couple of breakdowns on our part and scored on two breakaway goals.

"We were pressing them hard at midfield throughout the match. Unfortunately we didn't create any real scoring chances in the second half --- only a couple of half chances. When you play a team like Ohio Wesleyan with a couple of All-Americans and players who do things well you have to play your best. I was very proud of how our guys performed tonight. We went blow for blow with one of the top teams in the country."

Freshman Ian MacDougall (left) made a career-high 10 saves in the match. Ryan Fier, Tommy Pecar, Austin Jennings, Diego Aliaga, and Joe Stiglitz each produced shots on goal for the Little Giants.

Wabash (6-8, 0-4 NCAC) returns to action Saturday at noon in a home match against Kenyon College. The Lords are ranked third in the Great Lakes Region in the latest National Soccer Coaches Association of America poll.

Wabash vs. Ohio Wesleyan photos by Susan Albrecht.




Results: Ohio Wesleyan 2, Wabash 0