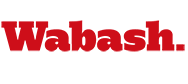 Pennsylvania Trip Ends in One-Goal Loss For Wabash
by Brent Harris

October 9, 2010

Wabash suffered another difficult one-goal loss Saturday evening in Meadville, Pennsylvania in a 1-0 defeat by North Coast Athletic Conference foe Allegheny College.

The Gators (6-5-3, 2-1-1 NCAC) scored the game-winning goal when Brian Terpin put a shot in the net off a free kick restart by Ryan Fetterolf in the 76th minute of the match.

"We played very well once again, but lost a match that once again we didn't deserve to lose based on our play, we just didn't find a way to win," Head Coach Roberto Giannini said. "We had several chances to score. We limited Allegheny to two shots on goal in the first half which our goalkeeper Ian MacDougall handled easily. We had two or three really good chances to score ourselves that Allegheny's goalkeeper stopped with some very nice saves.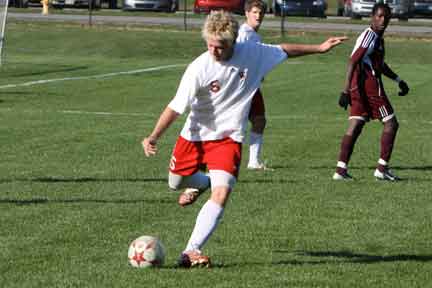 "The second half went very much the same way. We matched Allegheny shot for shot and blow for blow, even when we went a man down after a difficult red card issued to Femi Oluyedun when he and an Allegheny defender got tangled up on a play and both players received cards. We still created some good chances to score."

Wabash took a total of 10 shots in the match with three total shots on goal in each half. Allan Swan (above right) put two shots on net out of four attempts. Ryan Fier added the final shot on goal. MacDougall recorded four total saves, two in each half.

"That's the bottom line for us right now. We have not been able to capitalize on the chances we are creating. We were running and passing unbelievable well, even when we were a man down. We played well enough to deserve at least a tie if not the win, but the ball just didn't bounce the right way for us tonight. Regardless, I'm very proud of this team. They made a long eight-hour trip, got themselves ready to play and performed admirably."

Wabash (6-7, 0-3 NCAC) travels to Delaware, Ohio Wednesday for a 5 p.m. match against sixth-ranked Ohio Wesleyan.




Results: Allegheny 1, Wabash 0 Game Stats