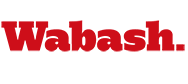 Red Pack Takes Third at Pre-Nationals
by Brent Harris

October 9, 2010

WAVERLY, Iowa - The Wabash cross country team executed its plan to near perfection Saturday at the Dan Huston Invitational, finishing third out of 24 teams.

The meet was hosted by Wartburg College on the same course that will serve as home for the 2010 NCAA Division III Cross Country Championship meet in November.

"Our goal heading into the race was to run as a team through the first 5,000 meters," Head Coach Roger Busch said. "We accomplished that, which should really help our third-, fourth-, and fifth-place runners when we head to the NCAA Regional in five weeks. Today's effort should help them believe they can run with our top runners and still be strong at the end of the race."

Wabash scored a total of 139 points, finishing ahead of fourth-place Augustana, ranked 13th in this week's US Track & Field and Cross Country Coaches Association national poll. The Little Giants also finished ahead of seventh-ranked Wisconsin-Platteville (fifth place).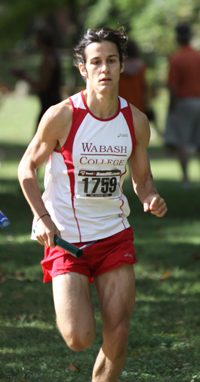 Seth Einterz
(left)
finished sixth overall, crossing the finish line in 25:55. He finished less than a minute behind Colorado College's Jackson Brainerd, who claimed the individual title with a time of 24:59. Kevin McCarthy was 23rd with time of 26:33. Donavan White took 29
th
place (26:41), while Brian David posted a lifetime-best time of 26:49 to finish in 32nd place. Jared Allen was 53rd (27:26).
"Brian really ran well for us," Busch said. "He ran with our top runners for most of the race and hung on at the end. It was a difficult day to run. You train in 65-degree weather, then suddenly have to run Hopefully he carries today's results with him over the next five weeks. If he continues to work on his confidence and his fitness he can stay with our top three and have a chance to be on the all-region team.
"Seth ran well, and could have finished third if he had started hard at the gun. That wasn't the plan at this time of the year. We need these five weeks to gain more confidence as a team heading into the regional."
While five of the Little Giants were competing in Iowa, the remainder of the team ran at the Gibson Family Invitational in Terra Haute. Wabash finished eighth overall, with freshman Jake Ponton posting his fastest time of the year at 27:53 to finish 27th.
"Jake celebrated his birthday yesterday and gave himself a nice present with a good effort at Terre Haute," Busch said. "If he can continue to work hard, he can earn a varsity spot by the time the regional race rolls around."
Dan Huston (Pre-Nationals) Results
Gibson Family Invitational Results