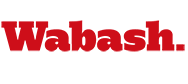 Wabash Hosts State Music Conference
by Eileen Bowen

October 6, 2010

Get directions to Wabash College Fine Arts Center

For more than 120 years, the

Indiana Music Teachers Association

(IMTA) has fostered the instruction, study and performance of music. On Friday and Saturday, the Wabash College Music Department will host the 2010 IMTA state conference.

With the theme

"Teaching Music—Making a Difference,"

50 college professors, college students, and independent music teachers will gather for discussions, presentations, and, of course, recitals, master classes, and concerts. The music events on the conference schedule are open to the community.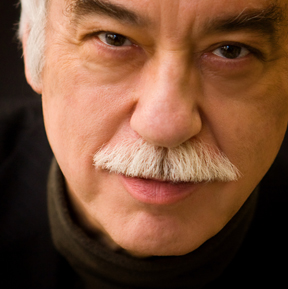 Cheryl Everett, Wabash adjunct instructor of piano and organ, has organized this year's conference.
The Friday schedule features Conference Clinician Reid Alexander and Conference Artist
Edward Auer
(photo right)
.
Alexander, professor of piano and pedagogy at the University of Illinois, is one of the most widely published pedagogues in his field.
In conjunction with the Visiting Artists Series and the Music Department, Auer, a leading interpreter of the works of Frederic Chopin and faculty member at Indiana University, will present an 8:00 p.m. recital in Salter Concert Hall.
In celebration of the 200th anniversary of Chopin's birth, Auer's recital will include a sonata by Franz Schubert and Chopin's 24 Preludes.
Jeff Sparks, founder and CEO of the Heartland Truly Moving Pictures, will speak to the members at their Friday evening banquet in a talk entitled "The Amazing Mrs. Miller—How One Incredible Lady Changed My Life."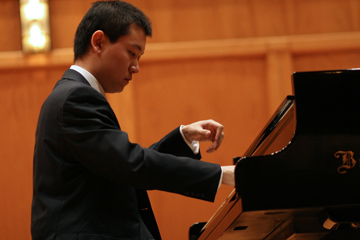 Two Wabash seniors will perform for—and be critiqued by—Prof. Auer in the master class on Saturday morning from 8:45 - 10:15 a.m. in Salter Concert Hall.
Stephen Maynard '11
will play Schubert's
Impromptu
Op. 90, No. 3, and
Tian Tian '11
(photo left)
will offer Chopin's
Ballade
No. 1, Op. 23.
The world premiere of the IMTA's commissioned 2010 composition, written by
Don Freund
, professor of composition at Indiana University, will be Saturday's highlight.
Autumnsongs
for piano, violin, and cello, will be performed in Korb Classroom at 3:50 p.m.
The IMTA's 24,000-member parent organization, the Music Teachers National Association, was founded in 1876 by Theodore Presser, who is remembered not only as the publisher of The Etude music magazine and the founder of the Presser Music Publishing Company, but also as a philanthropist in the cause of music education.
The focus of the IMTA—and the conference this week—is to support efforts to retain music as an essential element in a complete education. The IMTA offers certification programs to recognize pedagogical competence, and organizes composition and performance competitions for student participation.