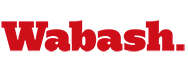 Extra Session Ends in 2-1 Loss for Wabash
by Brent Harris

October 5, 2010

For the second consecutive match, the Wabash soccer team found a way to tie a match in the closing minutes of regulation only to fall in overtime. Tuesday night the Transylvania University Pioneers scored two minutes into the extra session to claim a 2-1 victory over the Little Giants at Mud Hollow Field.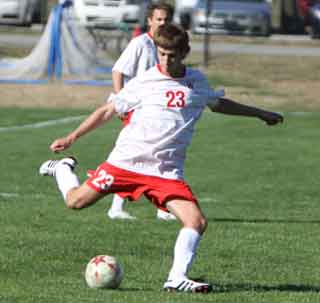 Zach Lange gave the Pioneers a 1-0 lead, scoring on a free kick in the 34
th
minute from just outside the right corner of the box. Wabash evened the score with less than 17 minutes remaining in regulation when Allan Swan knocked a loose ball in front of the goal on a pass from Tommy Pecar into the net.
Wabash dominated the second half of play, outshooting the Pioneers 9-5 while testing Transylvania's goalkeeper on three shots. Matt Paul, in his first start of the season in goal for Wabash, turned away six of eight shots on goal by the Pioneers (8-2-1) in the match. He faced only one shot on goal over the final 45 minutes of regulation.
"I am very proud of the way our team played today, particularly in the first half," Head Coach Roberto Giannini said. "Most of the guys we started had either not played much this season or had not played at all to this point in the year. We wanted to give our reserves an opportunity to play a whole game. With Transylvania not being a conference match, it gave us an opportunity to rest most of our starters who have been playing hard for the last month and a half.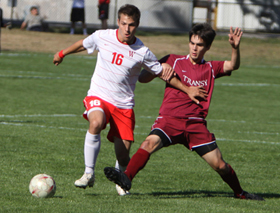 "Transylvania scored a good goal on a free kick, but our players continued to battle and did what they are supposed to do. It was important to get all of these kids playing time. When we heard some things during the match that were not really appropriate, we put in Ian Kelly, Swan, Ryan Fier, and Femi Oluyedun to give that group a boost in the last 30 minutes of the game and see what we could do. We put them in and we scored the equalizing goal. Unfortunately we could not put the game away in regulation. Now we have to gear up for the next six games, which are all important North Coast Athletic Conference contests."

Dylan Andrew fired four total shots and two shots on goal for Wabash. Swan took shots, while Joe Stiglitz, Gabe Walgram, Phil Rosborough, Kelly, and Fier each had one shot attempt.

Wabash (6-6, 0-2 NCAC) begins its six-game conference swing this Saturday with a 5 p.m. match at Allegheny College.




Photos - (top left) Gabe Walgram fires a shot toward the net in the first half against Transylvania.

(Bottom right) Joe Stiglitz battles for position against a Transylvania player.




Results: Transylvania 2, Wabash 1 (overtime) Game Stats