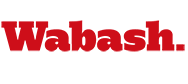 Non-Conference Game Awaits Wabash at Kenyon
by Brent Harris

October 1, 2010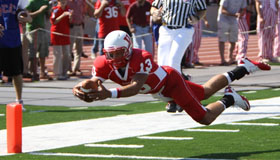 A change in the 2010 football schedule due to the departure of Earlham from the North Coast Athletic Conference has Wabash traveling to Gambier, Ohio Saturday for a non-conference contest against Kenyon College Saturday afternoon. The Little Giants play Kenyon at 1 p.m.
Wabash is coming off a 31-14 Homecoming victory over Chicago last week to improve to 3-0 for the season. The Little Giants, ranked 20th by D3football.com and 23rd by the American Football Coaches Association, forced three early turnovers last week. Wabash eventually took a 24-0 lead, thanks in part to a 65-yard TD pass from Chase Belton to James Kraus. Belton added a 21-yard TD run after Jonathon Koop's return of a blocked punt in the first quarter gave Wabash an early 7-0 lead. Spencer Whitehead added his longest career field goal, a 42-yard kick, as part of the first quarter scoring. Junior wide out Jonathan Horn finished with 125 receiving yards --- his best single-game effort --- that included a 48-yard TD reception from backup quarterback Tyler Burke.
Belton is a game-time decision as the starting quarterback for the Little Giants after leaving last week's game with an injury to his non-throwing shoulder. Burke completed both of his pass attempts, including the 48-yard strike to Horn in relief of Belton and will start against Kenyon if Belton cannot play Saturday.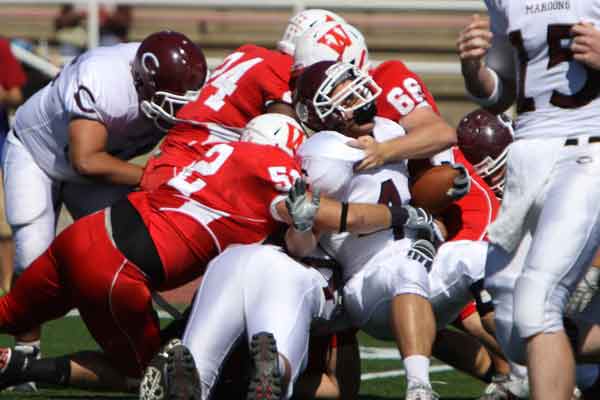 The Lords have been close to posting wins in each of their first three games. A three-point loss in overtime in the opening game of the season to Oberlin, an overtime loss to Hiram, and seven-point loss at Carnegie Mellon last Saturday have the Lords entering this week's game against
Wabash at 0-3 for the season. Kenyon has struggled in the red zone scoring only eight times in 14 trips inside the 20-yard line. Last week versus Carnegie Mellon, the Lords trimmed a 17-0 deficit to a one-score game, but failed to come away with any points on two of their four opportunities inside the red zone.
Despite the scoring struggles, Kenyon has proven to be more than capable of putting up big numbers on offense. Sophomore quarterback Dan Shannon leads the North Coast Athletic Conference in total offense, averaging 289 yards per game. Shannon has completed 87-of-130 passes for 796 yards and one TD with four interceptions. He has also rushed for 71 yards and has
only been sacked once.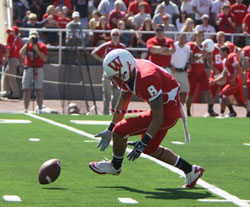 Brett Williams tops the receiving charts for Kenyon with 27 catches for 267 yards and one score. Charles Small has 18 receptions for 158 yards. Bradley Couts is the leading rusher for the Lords with 137 yards on 34 carries with a touchdown through three games. Williams has added 86 yards on 27 attempts with two TDs. Jordan Brooks has played in only two games, rushing for 98 yards in 21 tries.
Kenyon is third in the NCAC in total defense, holding opposing teams to 304 yards per game. Senior linebacker Beau Calcei is second in the league in tackles, averaging 12.3 stops a game. He has made 37 total tackles. Mark Sullivan leads the team with 4-1/2 tackles for losses totaling 11 yards.
"We have to put the Homecoming win over Chicago behind us. We still have areas where we need to improve. We'll need to do that this week against Kenyon. They have an experienced defense that is playing much better this season. Kenyon is giving up 18 fewer points a game and 150 fewer yards than this time last season. Offensively they have moved the ball really well, they've just had problems in the red zone and have committed some key turnovers. Our guys know Kenyon is
capable of executing big plays on offense. They will be a good test for us."
Hear more of Coach Raeburn's thoughts on the game at Kenyon in his weekly coach's show.
WABASH AT KENYON (1 p.m.; McBride Field)