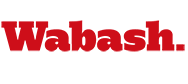 Tough Test Awaits Wabash at Homecoming
by Brent Harris

September 24, 2010

Wabash enters Homecoming weekend with a 2-0 record after defeating Ohio Wesleyan 45-21 last Saturday in Delaware, Ohio. The Little Giants will face their toughest test of the season this Saturday against the University of Chicago at 2 p.m. on Sewell Field at Hollett Little Giant Stadium.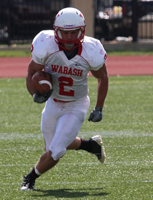 Six rushing touchdowns gave Wabash the victory last Saturday, with running backs Vann Hunt and Derrick Yoder leading the way. Hunt scored twice, including an eight-yard scamper in the first quarter to give the Little Giants a lead they would never relinquish. Yoder (left) scored on a five-yard run in the third quarter and led Wabash with 57 rushing yards on 10 carries. The Little Giants scored 21 unanswered points in the third period after taking a 10-7 lead to the locker room at halftime.
Quarterback Chase Belton threw for 159 yards (14-23-2) and ran for another 18 yards, including a 13-yard TD run in the third period. Freshman James Kraus led the Wabash receivers with three catches for 69 yards.
The Little Giants blocked two punts on special teams and made two interceptions and a fumble recovery to keep Ohio Wesleyan out of the end zone. The Bishops did rack up 378 yards of total offense, but were held to 70 rushing yards on 25 attempts. Jake Martin, Sam Smith, and Kyle Najar each led the way defensively for the Little Giants with seven tackles. Smith added his second interception of the season and blocked one of the punts to earn North Coast Athletic Conference Defensive Player of the Week Honors.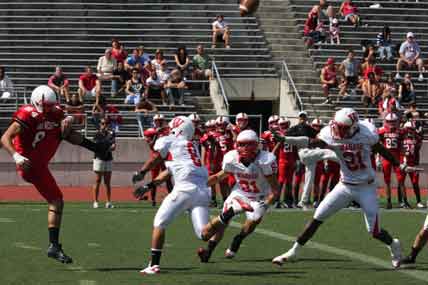 Chicago is 2-1 heading into the weekend after posting wins over Beloit (28-25) and Concordia Chicago (56-24). The Maroons returned 18 starters from last year's team. One of those returning players, senior quarterback Marshall Oium, suffered an injury in last weekend's 31-20 loss at Elmhurst, but sophomore Kevin Shelton came off the bench to throw for 196 yards on 16-of-24 passing.
Marshall is expected to start Saturday against the Little Giants and will have plenty of talent to assist him. Chicago's offense is led by junior running back Francis Adarkwa. Last year the Little Giants were able to hold Adarkwa to 14 yards on seven carries, but this season he enters the contest averaging 133.7 yards a game and has scored seven touchdowns.
Senior receiver Clay Wolff already owns Chicago's career receiving touchdowns record (24 TDs), and is 33 points away from setting the school's all-time scoring record. Wolff, a three-time University Athletic Association all-conference selection, leads the team in receptions with 21 for 365 yards and three scores. Sophomore Dee Brizzolara was the UAA Rookie of the Year in 2009 after leading the nation in all-purpose yards with an average of 220.2 per game. He tallied 1,028 receiving yards on 50 catches while also posting 919 kickoff return yards. This season Brizzolara already has 19 catches for 241 yards and two TDs to go with a 17-yards-per-return average on kickoffs.
The Chicago defense has sacked opposing quarterbacks 11 times through three games, led by Matt Sargent and Justin Kaderabek each with three. Linebacker Cameron Grimes is the leading tackler for the Maroons with 21 total stops, while Steve Tsilimos and Joshua Burandt each have two interceptions.
Wabash has won 14 consecutive Homecoming games and has an overall record of 56-26-8 dating back to the first Homecoming football game, a 27-7 win in 1920 against Western Normal from Kalamazoo, Michigan.