Presentations were given by Dr. Richard Gunderman '83, Dr. Bob Einterz '77, Terry Hamilton '89, David Callecod '89, John Sunde '78, Dr. John Roberts, Professor Eric Wetzel, Jill Rogers, and Jake Ezell '11. See more about the healthcare reunion
here
.
The Celebration of Leadership Luncheon celebrated the Annual Fund's successful year and long history of supporting the students of Wabash College. Annual Fund Director Joe Klen '97 welcomed the group and thanked them for "remaining loyal and generous during uncertain economic times."
Klen recapped the 2009-2010 Annual Fund campaign. "More than 4,000 donors gave $3,051,202.03. Of those donors, 346 have given for 25 consecutive years or more."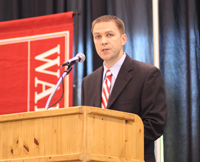 After the lunch, served "build your own sack lunch" style complete with insulated lunch bags, Klen offered a few suggestions from the Sons of Wabash for reusing the lunch bags. The number one way to reuse the lunch bag Klen said, "Take your lunch to work once a week and save the $5 you would have spent and give it to the Annual Fund. At year end, that's a $250 gift!"
Following Klen's welcome President Pat White reiterated Klen's thanks for continued unrestricted support. Such gifts help fund opportunities for our students such as immersion learning, summer research, and special events such as the recent trip to New York City by students to participate in an event at the American Museum as a result of last year's performance of Terra Nova.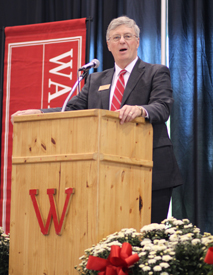 "In times when other Colleges were cutting back their goals, we pushed ours higher," White said. "Even as we reduced our expenses in order to save money and make the most out of every dollar you gave, the College has been able to continue to enhance programs and actions that profoundly affect student learning."
This year's Annual Fund theme is Stand TALL and to that affect, President White said, "Because you stand tall with Wabash, Wabash is able to transform the lives of amazing young men. And what does that mean?
"We believe in the great effect of this college, the great effect of our young men. For every Wabash man who is able to complete his education – the world is. For every Wabash man who is able to take advantage of a business leadership program or have a summer internship, the world gets smarter. For every Wabash man who has an international experience, the world gets smaller.
"We are all so grateful for what you do to make your College stronger."
At the conclusion of White's remarks, Jacob Surface '11, shared with the crowd what Annual Fund support has meant to him as a student.
When faced with the decision of where to attend college, Surface looked around him to mentors in his life who he most wanted to emulate. All of those men were Wabash men. After that, it was an easy decision for him. But as the son of a steel worker and a mother who worked part time, he knew financially the road would be a tough one.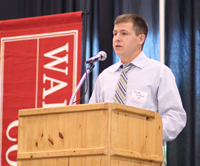 But at Wabash, Surface said, they make it possible for "Sons of steel workers to study Socrates with the sons of doctors and lawyers."
Surface was also thankful for the opportunities he has had to study off campus, abroad, and to have internships in cities like New York. "Thanks to Wabash I have spent more time outside of Crawfordsville, than most of my friends who are going to school at state schools.
"And the best part is that mine is not a one-of-a-kind story." The gifts made to the annual fund make stories like Surface's extraordinary journey through higher education the norm.