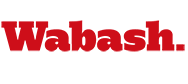 Wabash Holds Off Wooster 21-17
by Jim Amidon

September 11, 2010

The Wabash College football team dodged two early bullets, jumped out to a 14-0 lead, and then held off a late Wooster rally for a 21-17 victory in the Little Giants' season opener. Sophomore Jonathon Koop's interception in the closing seconds sealed the victory.

The Little Giants fumbled the opening kickoff, which set up Wooster with good field position. The Scots' drive bogged down after a holding penalty and Russ Palm's 42-yard field goal went wide right.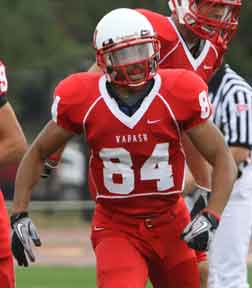 On its next series, Wabash was penalized for a false start, lost three yards on a running play, and sophomore quarterback Chase Belton was intercepted at the Wabash 17-yard-line. The Little Giants had two possessions, ran two plays, and turned the ball over twice.
Fortunately for the 4,381 Scarlet-clad fans present for the dedication of Sewell Field at Byron P. Hollett Little Giant Stadium, Wooster quarterback Richard Barnes threw an errant pass on the ensuing play, which was picked off by Wabash's Sam Smith.
Four plays later, Belton hit senior wide receiver Wes Chamblee in the flat, and the All-American returner bolted 72 yards to score the first points on the newly dedicated field.
"When you walk off the field knowing that you didn't play your best, but you still got the win, it makes coming in on Sunday a whole lot better," said Wabash Coach Erik Raeburn, who is now 3-0 in Wabash season-openers. "We know we've got a lot of work to do, but we feel like teams make a lot of improvement between games one and two, and we need to make progress."
The Little Giants committed 10 penalties for 97 yards, turned the ball over three times, and were just 1-for-3 in red zone opportunities.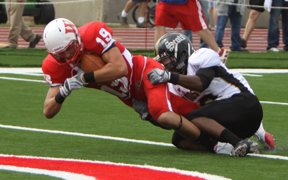 Belton, who led Wabash to a victory at Wooster in his only other collegiate start, showed flashes of brilliance, but also made a few costly mistakes. He led all rushers with 127 yards, but gave back 46 of those yards on four sacks.
"We'll take a sack if it means not turning the ball over," said Raeburn, "but we can't be running backward and giving up more yards. Chase took some sacks scrambling around trying to make plays, but we can't give up that much yardage."
After he hit Chamblee on the 72-yard strike, Belton led Wabash on a nifty 6-play, 66-yard scoring drive by teaming up with Jonathan Horn. Horn caught passes of nine, 15, and used his size to break away from the defender for a 23-yard touchdown grab.
Belton hit 16-of-26 passes for 250 yards and two scores. Horn had eight catches for 108 yards, while rookie James Krause stepped in to make four receptions for 42 yards.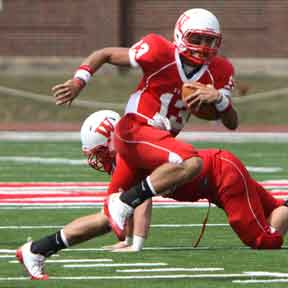 Belton's second interception came early in the second quarter, and Wooster's Petey Jeffy returned the ball 49 yards to give the Scots excellent field position. Barnes hit Mike Redick for 18 yards and later scrambled for five yards on fourth down to draw the Scots within 7, 14-7.
Wabash stuffed the Scots on their first possession of the third quarter, and Belton responded by taking the Little Giants on an eight-play, 79-yard drive that was easily the most impressive offensive display of the day for Wabash.
Belton showed he's a running threat with bursts of 13, seven, and 15 yards on the drive, and Tommy Mambourg stormed in from three yards out for a 21-7 Wabash lead six minutes into the third quarter.
Wooster marched 62 yards at the end of the third quarter and into the fourth quarter to keep the pressure on the Little Giants. Robert Flagg, who rushed for 86 yards, shot up the middle from 14 yards out to cut Wabash's lead to seven, 21-14.
Wabash had a chance to salt the game away, and it appeared the Little Giants would do just that when Belton rushed for 35 yards to get inside the Wooster 20 yard-line. A penalty got Wabash to the four, but Belton gave up 30 yards on a pair of sacks to stall the drive.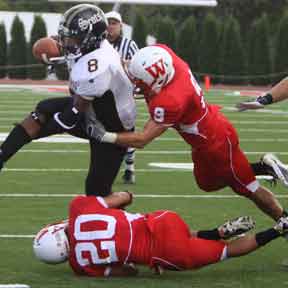 Wooster got a 37-yard field goal from Palm with 3:53 to play, and held Wabash on its next possession. But Barnes threw three straight incomplete passes before Koop's interception that sealed the Little Giants victory.

Wabash outgained Wooster 393 to 295 in the contest, though the Scots put up 19 first downs to Wabash's 18. Sophomore safety Sam Smith led all defenders with 13 tackles, plus he added the first-quarter interception and later recovered a fumble.

C.J. Gum, who was unable to practice most of the week, was solid at middle linebacker and posted 11 tackles and three tackles for loss.

Linemen J.D. McClintic and Jake Kolisek each had seven stops and they combined on a sack of Barnes.

"It feels good to win," Gum said after the contest. "Even though I didn't practice, I felt mentally prepared by watching film and watching in practice.

"We've got a lot of stuff to correct, but it's good to win our first game."

Prior to kickoff, Wabash President Pat White formally dedicated Sewell Field, which honors the memory of David Hunter Sewell '76. Sewell played football, wrestled, and appeared in Wabash theater productions as an undergraduate. A gift from Trustee Gary Reamey '77, who was close friends with Sewell prior to his death last year, made the new Field Turf playing surface possible.

"[Sewell's] integrity, honor, and dignity touched the lives of all who had the privilege of knowing him," said President White.

The President also paid tribute to Paul Hawksworth '56, for whom Wabash's new scoreboard is dedicated. On the occasion of his 75th birthday, Paul's Wabash sons — David '88, Mike '91, and Jim '95 — made a gift to the College that made the scoreboard possible.

Wabash will travel to Delaware, Ohio next Saturday for a 1 p.m. contest against Ohio Wesleyan.

In the pictures — At the top: Wes Chamblee celebrates the first touchdown scored on Sewell Field at Byron P. Hollett Little Giant Stadium. Above left: Jonathan Horn dragged a defender more than 10 yards to find the end zone. Above right: Chase Belton takes off upfield for a big gain. Bottom left: Austin Hodges (20) and Sam Smith (9) combine to hit quarterback Richard Barnes.




Results: Wabash 21, Wooster 17 Game Stats