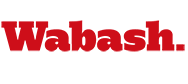 Youth Football Clinic Draws Huge Crowd
by Jim Amidon

September 11, 2010

The Wabash football team has an annual tradition of hosting its Youth Football Clinic on the eve of the season opener. Friday's clinic — on the new field at Byron P. Hollett Little Giant Stadium — drew a huge crowd of youngsters. But it was hard to tell who had more fun — the Wabash guys or the kids.

Deonte Singfield seemed more popular than Peyton Manning to the 150 or so kids who came out for the clinic. Singfield got them riled up, they would then mob him, and down he would go. The senior linebacker was mobbed and tackled a half-dozen times, and once on the turf, the kids would really pile on.

Singfield wasn't alone in having fun. Senior defensive lineman Jake Kolisek took great delight in holding the ball for the participants during an extra point drill. One talented youngster from the Southmont Youth Football League was so good at kicking the extra points, that Jake pulled a Lucy and Charlie Brown on him, which had the whole crowd rolling with laughter.

And how cool would it be for a sixth-grader to throw a touchdown pass to All-American speedster Wes Chamblee? Almost every kid in the stadium had the opportunity to do that.

Others learned tackling technique from the fiercest Little Giant tackler of all — C.J. Gum.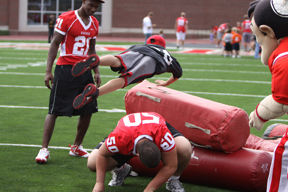 Rookie lineman Scott Campbell put on his game face. He'd crouch down in front of a pile of mats and put on his most menacing look. The kids would then run straight at him and leap over into the mats, scoring the winning touchdown.
Even Crawfordsville Mayor Charlie Coons was on hand — and not for a photo opportunity. His son, Caleb, took part in the clinic sporting the jersey of his favorite player — Peyton Manning.
One of the Clinic's most popular events is the tunnel drill. The participants are separated by grade level, then run through a long tunnel of Wabash players, who are chanting the kids' names as they run through and pile drive a tackling dummy in the turf.
"Every year this is one of the neatest things we do as a football team," said Brent Harris, Director of Sports Information and Marketing. "The kids have a great time and it allows our players to build relationships with them and their parents. Those same families will come back to watch Wabash play week after week all season long. It's just a great event."
In the photo: James Pannell looks on as a youngster dives over Scott Campbell for the winning touchdown as Wally cheers him on.