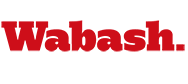 Last-Minute Goal Ends Wabash Winning Streak
by Brent Harris

September 8, 2010

A goal with less than a minute left in regulation snapped the Wabash soccer team's winning streak Wednesday night. The Little Giants fell in a heart-breaking 1-0 match at Rose-Hulman.

The Engineers' Paul Bouagnon broke the scoreless tie with 32 seconds remaining in the match when Nick Race hit Clint Vatterrodt in the box with a pass from midfield. Vatterrodt redirected the ball to Bouagnon with the clock winding down for the game-winning shot for Rose-Hulman (1-3).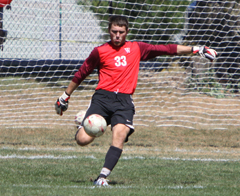 "We didn't come out and play our style of soccer in the first half," Wabash head coach Roberto Giannini said. "We were rushing just a little bit. The field surface was beautiful and we played a lot of one-touch soccer.

"The second half we came back a little more organized. We brought the ball forward a little bit more. That gave us a couple of scoring chances. These two teams played a very evenly-matched game of soccer.

Little Giant goalkeeper Ian MacDougall (left) made five saves in the match. Femi Oluyedun led the Wabash offensive attack with two shots on goal. Dylan Andrew and Diego Aliaga each added on shot on net in the contest.

"These were two very evenly-matched teams," Giannini added. "Sometimes you win and you don't deserve it, and sometimes you lose and you don't deserve it. Regardless, you're not going to win ever match. Tomorrow we will regroup and focus on Saturday's match against Earlham."

Wabash (3-1) will play the Quakers at noon at Mud Hollow Field.




Results: Rose-Hulman 1, Wabash 0 Game Stats