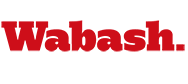 West's First Goal Keeps Wabash Perfect
by Brent Harris

September 5, 2010

For the first 29 games of his career, Wabash junior Pat West spent his time keeping the soccer ball out of the net as a goalkeeper. Sunday West, now playing as a defender for the Little Giant team, scored his first career goal to give Wabash a 1-0 lead over Maryville College in the Robbie Dreher Memorial Classic. The victory allowed the Little Giants to improve to 3-0 for the season.

View photos from Sunday's match here.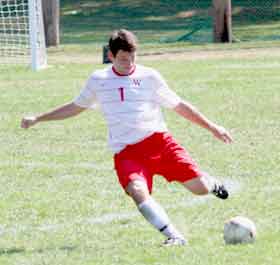 An injured shoulder helped West (left) make the decision to move from goalkeeper to defensive player. Sunday he nailed a free kick past Maryville goalkeeper Bryan Walker in the third minute to give Wabash the early lead.

Ian MacDougall, who took over in goal for West, handled the rest. The freshman goalkeeper corralled seven shots by the Scots to post his second consecutive shutout.

The victory gives Wabash a 3-0 start to the season for the first time since 1997. The Little Giants went on to finish 11-7 that year.

"If you saw Pat's face when he scored the goal, you might have thought he had just scored a goal in the World Cup final,"head coach Roberto Giannini said. "He was very excited, but also I think he was happy to score in a way that we've practiced a lot this season. We've decided to put some free kicks toward the net and challenge the goalkeeper. Sometimes you'll get a deflection, and sometimes you'll get what we had today — the goalkeeper got caught in between and Pat's shot went in.

"Pat has stepped up off and on the pitch. He was still our number one goalkeeper at the start of the season. Now that Ian has taken on that role of starting goalkeeper, Pat has served as a mentor to Ian in addition to providing protection in the back. In a way it gives us two goalkeepers on defense."

Wabash outshot the Scots 17-13. The Little Giants took eight shots on goal, as did Maryville.

The Little Giants return to action Wednesday evening at Rose-Hulman for a 7 p.m. contest before returning to Mud Hollow Field for a noon start against in-state rival Earlham College




Results: Wabash 1, Maryville 0 Game Stats