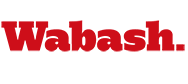 Phillips Challenges Students with Questions
by Howard Hewitt

September 2, 2010

Dean of the College Gary Phillips opened Wabash's school year and the first Chapel Talk with questions. The Dean illustrated how questions are the very essence of the liberal arts.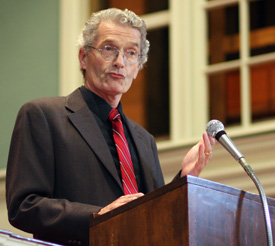 "Liberal arts living and learning is primarily about questions," Phillips told the large Chapel gathering.
The Sphinx Club sponsors Chapel each Thursday at 11:10 a.m. It is a gathering of the Wabash Community to share ideas, opinion, and thoughts about all things Wabash and beyond. Speakers are frequently faculty, staff, and graduates.
Phillips said the central them in a being a liberally educated man is developing a temperament and set of techniques in formulating questions.
"The liberal arts at Wabash gives you the courage to ask about who you are and the world you want to live in," he suggested. "Who am I? How shall we live?"
He transitioned at mid-speech to the College's new all-freshman, second-semester course, Enduring Questions. He said the class is designed "to help you at the start of your career … to cut your teeth on the tough stuff."
He encouraged students to ask questions without fear but with respect and openness for answers. "It's the question that drives us," Phillips said. The liberal arts should teach us, he said, to "take nothing for granted but grant one another a hearing."
You can also see his speech and Chapel Talks from last year on the Wabash College YouTube page.