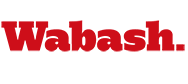 Class of 2014 Moves Into Wabash
by Howard Hewitt

August 21, 2010

Wabash College welcomed 255 young men to campus Saturday morning to begin their college education. Freshman Saturday is one of strong emotions, tradition, and a little bit of chaos.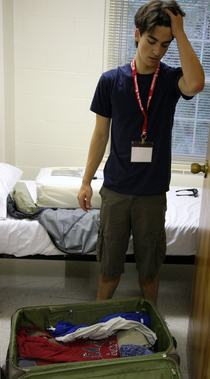 The students registered in the Allen Center, dealt with financial aid issues, opened banking accounts, had ID photos taken, met new friends, and tried to deal with the crush of information and attention.
Meanwhile parents attended sessions aimed at answering questions about their son's immediate future. There also was the matter of getting moved into dormitories and fraternity houses. The moving in part was made easier for the third straight year thanks to Football Coach Erik Raeburn and the Little Giants football team.
Raeburn's Saturday morning "special lifting" involves upper classmen on the football team carrying all of the heavy stuff for the incoming freshman class. The new students looked slightly surprised behind Martindale and College Hall. The parents looked surprised but overwhelmingly grateful.
The "first day of college" was easier for some than others. Freshmen Brad Wise, Monroe, Georgia, is leaving his twin brother a little farther south. David Wise brought his son Brad to Wabash while Mrs. Wise took Brad's twin Scott to Sewanee for freshman registration.
Charles Williams '14, Carmel, IN., was getting his room set up in College Hall Saturday morning. His parents were providing all the appropriate help. Mr. Williams noted how much he appreciated all of the help and organization at Wabash's Freshman Saturday.
In photo: Luke Ryle '14, Greenwood, reflects the challenges of moving in on the first day.