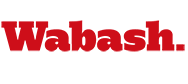 90 Attend Boys State Reception
by Jim Amidon

August 16, 2010

Ninety rising high school seniors were on campus Sunday in a celebration of their participation in the Boys State program this summer. Hosted by the Admissions Office, the young men were recognized for their achievement, for which each was given a scholarship should they choose to attend Wabash.

Dean of Admissions and Financial Aid Steve Klein, who welcomed the students and their families, said that the qualities of Boys State participants are the same qualities Wabash seeks in its students.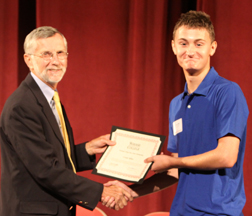 "You young men who were chosen as delegates have a lot going for you," Dean Klein said. "You are talented, bright, and are committed to your communities. Because you posses those traits, you likely have heard from dozens of colleges already. By now you may have difficulty telling them apart. Let me help you a bit — Wabash is likely the only one holding a Boys State recognition program."
Klein explained Wabash's mission, which is to educate young men to think critically, act responsibly, lead effectively, and live humanely.
"As you reflect on your Boys State experience, you'll begin to see the overlap in missions, goals, and results we seek at Wabash. Among the qualities both organizations value are leadership, citizenship, confidence, and friendship."
The highlight of the afternoon was an alumni panel, which was moderated by Wabash seniors Jake Ezell and Jake German. Panel participants included Chris Cotterill '99, Josh Robinson '97, Rick Strasser '01 and Keith Veal '92.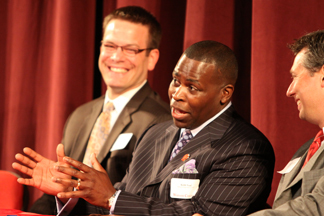 Each alumnus took a few minutes to introduce themselves before each expanded on how their experiences at Wabash shaped who they are today. Ezell and German prompted the panelists with questions about the liberal arts, relationships with faculty and staff, and what it's like to attend a college for men.
Veal (right), who is president and owner of Sustainable Solutions, an environmental consulting services company in Indianapolis, talked about the work he's done with young people in Central Indiana, when he advises them to "Walk TALL."
"Wabash taught me how to 'Walk TALL' and that's what I tell them. I say, 'think critically, act responsibly, lead effectively, and live humanely — think, act, lead, live,'" the acronym for which is TALL. "Wabash taught me the power of critical thinking. If you get that part right — thinking critically — everything else falls into place."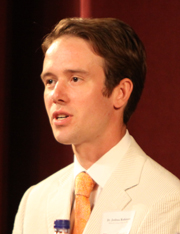 Dr. Robinson
(left)
, a pediatric cardiologist who recently joined the faculty of the Northwestern University School of Medicine, was asked how Wabash changed his life. He told the large audience that Wabash had not only changed his life, it had touched the lives of everyone in his family, especially his two brothers, Ben and Jeremy, who are also graduates.
"We got together for our first-ever siblings reunion not long ago and it was striking how often Wabash came up," he said. He spoke of the pride he has in the successes of his two brothers, Ben, who is an attorney at a large corporate law firm in D.C., and Jeremy, who is a public high school teacher in Chicago. "Jeremy is my hero," he said.
"Perhaps the most important thing Wabash taught me was how to be an effective communicator," Robinson said. "I use the written and oral communication skills I learned here every day."
Cotterill (below right), who is chief of staff for Indianapolis Mayor Greg Ballard, never thought about attending a liberal arts college; he simply wanted to become a lawyer. Several people suggested he look at Wabash, and since he was comfortable attending a small high school in Indianapolis, Wabash was a good fit.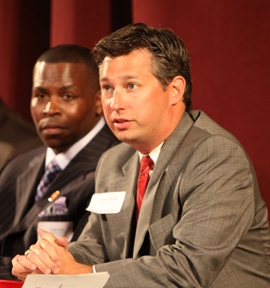 "If you were to ask me then [while a Wabash student] if I'd be working for the Mayor of Indianapolis, there is no way. I was going to be a lawyer and practice law.
"Wabash gave me opportunities to state my opinions and ideas with people far smarter and more experienced than I was, and that was good preparation for what I've done throughout my career."
Strasser, a consultant with IBM in Washington, said some of the most meaningful experiences he had during his time at Wabash occurred outside the classroom. He talked about walking into Dean Tom Bambrey's office numerous times — without an appointment — and how the Dean would always welcome him.
"Sometimes he listened and gave me good advice," Strasser said. "And sometimes he'd just look at me and say, "Get over it, Rick."
Strasser also said a summer internship provided by Wabash alumnus Bob Knowling and his overseas study experience in Wales taught him how to live and learn on his own, far from home.
Robinson said that so many high school students want their college years to be the best four years of their lives. He said that what sets Wabash apart is that it prepares young men to have the best years of their lives at every stage of their lives.
"I'd like to think that my college years were the best years of my life, but to be honest, Wabash prepared me so that this year could be the best year of my life."
After the panel, alumnus Jon Pactor '71 introduced all 90 attendees, who were greeted and given certificates by Political Science Professor David Hadley (pictured at top with Carmel High School's Grant Miller).
Director of Financial Aid Clint Gasaway concluded the session by reminding the Boys State participants that they had each won a scholarship to Wabash should they elect to apply for admission. He also reminded them of a number of other merit-based scholarships available from the College, and he urged each young man to get started on the application process as soon as possible.