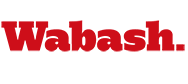 Community Friends Looking for Host Families
by Jim Amidon

August 13, 2010

For several decades, Wabash College has looked to the greater Montgomery County community to provide support for its international students.

Known as Community Friends, a tight-knit group of caring volunteers spearhead the effort each year to provide adoptive families for each of the students who attend Wabash from foreign lands.

Adoption, though, is really not the right word. Community Friends are simply families who are willing to open their homes to international students on an occasional basis and help them adjust to small town life in America.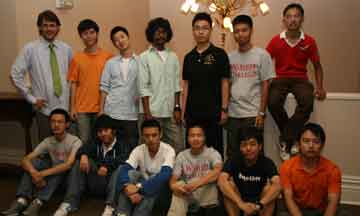 Here's how it works: David Clapp, who directs Wabash's international studies office, and local volunteer Gerry Turner, match an international student with an interested family. Families involved with Community Friends invite their students over for occasional Sunday dinners, take them shopping, or to local sporting and cultural events, and help the students understand what it's like to live in America.
In turn, the international students provide local families a glimpse into foreign cultures, religions, and customs.
"The Community Friends program provides local families a great opportunity to become more globally aware, and it's especially good for families with children," said Clapp.
"When you look at Crawfordsville, you're looking at a cross section of America," Clapp added. "It's an opportunity to show people from all over the world what America is really like and that Crawfordsville is a great community."
Clapp says he expects Wabash will have 55 international students enrolled this fall, which includes 16 new students who need to be placed with local families. This year's international freshmen come mostly from Asian countries, including China, Vietnam, Japan, Korea, Bangladesh, and Singapore.
Clapp gives a great deal of credit to local volunteers like Gerry Turner, who keep the Community Friends organization humming along.
"We have in Crawfordsville many families that have adopted Chinese children," Turner says. "When I learn where the babies were born, I try to pair them with our students from those areas. As the relationship builds, sharing can take place. There are many success stories with those Chinese connections."
Mike and Terry Swift have befriended a number of international students from Wabash, and both agree that the relationships endure long after the students leave the College. In many cases, Wabash's foreign students never get to go home during their four years in Crawfordsville, which makes involvement by Community Friends especially important.
"I have always been drawn to folks from foreign lands, and we feel blessed to have this international culture being brought into our home," said Terry Swift. "We love sharing experiences with our host kids and their friends. They have added richness to our lives as I hope we have to theirs. The Community Friends program is an all-around good experience, which we will continue to be part of."
Jerry and Judy North have been part of Community Friends for years. They've taken their adoptive "sons" to Indiana Pacers' basketball games, car shows, and IU football games.
The international students have also gotten involved in our community. For example, Kristijonas Paltanivicious, who is from Lithuania, directed Miracle on 34th Street at the Vanity Theater last December. Meanwhile, Vietnamese students Houng Duong and Anh Le both had roles in the Sugar Creek Players production of West Side Story. For all three students, taking part in the performing arts — in such classic American plays — proved to be a very powerful life experience.
"We have thoroughly enjoyed participating in this program," said Mike Swift. "We've become very close to Huong, our international student, and several of his friends. We've learned a lot about lifestyle differences between our countries. They've enjoyed going out into the countryside with us, a landscape much different than their home. These guys are city folks from Hanoi, so it takes a little work to adjust to small town Indiana. I think we've done a bit to help their transition.
"This Vietnamese connection has been helpful to our daughter, Emma, who has recently traveled to Vietnam in the Fulbright program," Mike added. "In a few weeks, she'll start teaching English at one of the universities, and is currently learning language and culture basics in Hanoi. Her transition was eased through her connection to her Vietnamese 'brothers' at Wabash."
Wabash's international students come to campus for orientation this Monday. Families who wish to take part in the Community Friends program can contact David Clapp (
clappd@wabash.edu
or 361-6078) or Gerry Turner (
gerryt36@sbcglobal.net
or 361-1442). Clapp also wishes to point out that there is no financial obligation to becoming a Community Friend.