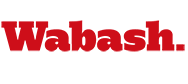 Summer Chemistry Internship Pushed Two Juniors
by Kyle Bender '12

August 12, 2010

A unique research project put two Wabash chemistry majors out of their comfort zones this summer.

Shane Evans '12 and Seth Bawel '12 spent an eight week internship under Chemistry professor Ann Taylor. The duo worked primarily with a number of plants, researching how different types of bacteria will affect the organisms and how other variables such as herbs and spices interact with plants.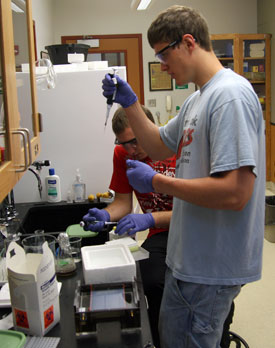 For the juniors, the internship required more biology knowledge than either possessed. Both agree the hands-on experience allowed them to quickly pick up on the biology terminology and succeed.
Bawel, who recently received the Howell Chemistry Award for excellence, believes the approach demonstrates the responsibilities and expectations demanded of a Wabash student.
"We came in and had to overcome a big learning curve," he said. "With no collegiate biology exposure, we needed to learn the procedures before we could continue with our research. Once we began, the whole DNA interaction process really attracted me and sparked a new interest."
Evans, who will study abroad in Spain this coming fall, agrees.
"It really allowed us to learn more about plants and what they do for themselves," he said. "We saw what kind of defense mechanisms they create and how the chemicals within herbs and spices can affect a plant."
As both pursue careers in science, they know the research experience will help them in the future.
"This type of project will look great on my medical school application," Evans said. "Not only has it allowed me to improve my lab skills, but I have also learned how to work more efficiently and accurately. Seth and I were able to go from work in the lab three hours a week during the school year to eight hours of lab work a day, five days a week during this internship."
Bawel plans to seek a career in the chemical industry. Dow AgroSciences, a top-tier agricultural company based in Indianapolis, regularly has similar research projects.
"What we're doing is essentially agricultural science," Bawel said. "To be able to put this experience on my resume will help me tremendously when applying for future jobs or internships."
Spending a whole summer working alongside Taylor also served as an additional benefit.
"She is my academic advisor so I feel like I already had a personal relationship with her," Evans said. "Working for a summer on a college campus allows students to see professors more as just everyday people. For example, we were able to have dinner at her house and meet her family."
The two are already looking forward to the 2011 spring semester, when they will enroll in the Biochemistry course taught by Professor Walter Novak.
"We've basically been undergoing biochem experiments all summer," Bawel said. "I'm anxious to put the knowledge we've learned to use in the classroom."