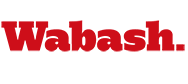 Novak, Students Work on Bioterrorism Inhibitor
by Kyle Bender '12

August 3, 2010

Wabash chemistry Professor Walter Novak and students Austin Drake '11 and Matt Schenkel '12 might be the first people called if the United States suffers a bioterrorism attack.

The three spent the first half of the summer searching for a protein inhibitor that could stop the organism "Francisellatularensis" from being used as a bioweapon. The organism was made into a weapon during World War II and all stock piles were believed to have been destroyed after the war.

"It's been fun, challenging, and at times, very frustrating," Schenkel said. "We're the only people that have tried to classify and identify the characteristics of this protein so we're really working with something unique. When we run into a problem, we can't just look up journal articles to find a solution – there's nothing there."
The bioweapon is easy to make; therefore, it is important to search for new strategies to fight the infection.
"The organism causes the disease tularemia, which by itself isn't dangerous," Drake said. "However, when applied to large groups of people, it will most likely kill 10 percent of the population. It can infect people easily and spread through the air and water supply, so it is critical we find a way to effectively stop the organism."
The group has targeted a small molecule, which is necessary for the organism's energy metabolism process. In collaboration with a team from the University of Loyola-Chicago, Novak and students used computer analysis to search for potential inhibitors in a pool of 5 million possible combinations.
The upper level project has posed quite the challenge for Drake and Schenkel, two chemistry majors with medical school aspirations.
Novak believes the summer work will only help the two.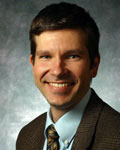 "I think that it's a huge advantage for them," he said. "These summer research experiences teach students to be independent. The labs we give students in the classroom are more planned and designed to illustrate a point. This project provides a situation where you actually have to construct the steps to solve the problem.
"No one has the answers so I'm learning right along with them. I think this logistical type of problem solving is exceedingly valuable for Austin and Matt, not only for their education, but also for life after Wabash."
For Novak, who just finished his first year teaching at Wabash, the opportunity to engage in research alongside undergraduate students is something that drew him to the College.
"I've had several experiences working with undergrads at prior schools and realized it's what I like doing," he said. "I'm able to give them a lot of responsibility and check on them periodically, but they are doing full-scale scientific research on their own."
Drake said the summer internship gave him a new look at the professor. "He's been doing non-stop research the last 10 years so we're able to work with him in his element. Sometimes students forget that professors aren't just here to educate, they're also academics and working on cutting-edge research."
The independence and responsibilities Novak demands have taught Drake and Schenkel several valuable lessons, such as recording every step in the lab manual.

"There have been a couple of times where I've forgotten to write procedures down," Drake said. "That's one of the most crucial elements to any science experiment. Working on this project as a paid intern, the responsibility seems so much greater and causes us to take extra pride in generating good lab results."
When they return to class, Drake and Schenkel expect the experience they've gained through the project to carry over in the classroom. Schenkel, who has yet to take Novak's Biochemistry course, will begin the class with more lab time than his classmates will complete in the entire semester.
As for that call from the United States government, the students hope it never comes.
"Although it would be good exposure for Wabash, I'd rather not see people hurt due to the bioweapon," Schenkel said. "It would be great to find the inhibitor and not worry about tularemia anymore."