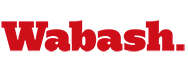 Professors Explore Culinary Oddities
July 29, 2010

Professor Ethan Hollander - The past four weeks in China have been a cultural and culinary adventure. Professors Mark Brouwer, Melissa Butler and myself have enjoyed an array of new experiences that have tested everything from our cultural comfort zones to our gastro-intestinal constitutions. However difficult, fascinating or fun these experiences may be, each one also provides an opportunity to learn something new. So far, a month in China has taught us each a lot about the largest and arguably most fascinating country in the world. It has also taught us a lot about ourselves.

Simply walking the streets of Shanghai has given us insight into just how 'foreign' a place can be. Though I am in my third week of Chinese lessons, the language is still an unintelligible chatter of sounds and tones that I can hardly imitate, much less recognize or reproduce. And fewer of the natives speak English than in any place I've ever been.

Professor Butler surmised that the confusion we experience as we blindly gaze at Chinese menus and street signs might help us understand what it means to be illiterate. The blank stares we get as try to order or navigate the city tell us something of what it means to be a stranger in a strange land, or maybe even something of the immigrant experience itself. Indeed, as the attached pictures show, even English translations in China sometimes fall something short of helpful. [Pictures 1940 & 1943]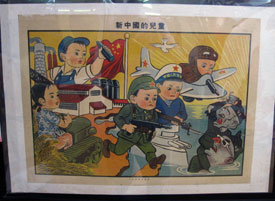 But the people, the culture and the history are fascinating. Just yesterday, Professor Brouwer and I went to the Shanghai Propaganda Poster Art Centre, an amazing collection of posters and paraphernalia from the birth of the Chinese People's Republic in 1949 to the present. The posters tell the story of a tumultuous period of Chinese history, from Mao's early struggles to establish a sovereign Communist state to his conflict and rapprochement with the world's other major powers, including the United States. The Chinese government's perspective on this history is as interesting as the history itself. And posters show us everything from the jubilation of Tibetan villagers as they are 'liberated' by Mao's army to patriotic Communist resistance to the forces of Western imperialism.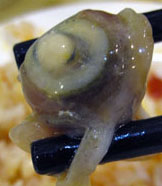 As different as this perspective may be from our own, nothing is as different, as challenging or as enjoyable as Chinese food. Some of the food here is quite strange to say the least. We've eaten -- and enjoyed! -- everything from fish heads to chicken feet. And while I've eaten pig testicles with both Butler and Brewer in the relative comfort of Waynetown, the fish eyeball in Shanghai proved too much for either of them, and so I dined on that alone.
Still, the three of us have consumed our share of everything from pigeon to pig ear. And we now know that the tender sweetness of bullfrog is no match for the sublime delicacy of bull penis itself. Dog, it turns out, is somewhat fatty and uninteresting, but much improved when stir fried with garlic chives and onion.
Pomegranate flowers are delicate yet firm. Crawfish are delicious but difficult to eat. Fermented bean curd smells a bit like the Little Giant locker room in the aftermath of Monon Bell.[picture 1938] And 'wood ear,' a black fungus harvested from fallen logs in the Sichuan forest, is, by all accounts, about the best of all the wonderful things we've tasted so far! Chinese beer is remarkably unremarkable. But there is no small irony in the fact that the best beer in the country is made by Uighurs, a Muslim ethnic minority from China's northwest corner.
As you can see, we've learned a lot from the things we've encountered in China, even and especially when we've eaten them. This is an amazing and amazingly different place. I look forward to sharing more stories about it soon!
Reaching the Halfway point of Teaching in China
Shanghai, July 19-26, 2010 - We've reached the half-way point in our China sojourn! The program organizers held a buffet dinner last Thursday night for students and faculty to celebrate the occasion and provide us with an opportunity to socialize a bit outside of class. I appreciated the chance to get to know their plans for the future and to pick up tips about things to see and do in China. These ECNU summer students brought with them hearty appetites for a free meal — a characteristic usually displayed by Wabash students.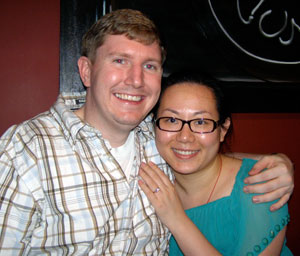 Filip Lempa and I continued our Wabash-in-China alumni meetings by having dinner with Seth Ditchcreek. '04, at a microbrewery in the French Concession. Seth is a Valparaiso native who majored in economics, minored in Russian, and participated in a couple of immersion trips to Russia during his Wabash career. Upon graduation, he took a job teaching English in Japan. After a couple of years, Seth enrolled in a Master's degree program in international studies offered in China by Concordia University. He received Chinese certification as a teacher of English and works for a firm here in Shanghai teaching English. We also met his fiancé, Janny Yang. A September wedding is planned.
Mark and Anne Brouwer made their way to the Shanghai Expo on Wednesday night. Much of the local news here has centered on the long waiting times for each pavilion but the Brouwers were pleasantly surprised by a lack of crowds during the evening hours. Their visit included the Chinese pavilion which houses a set of remarkable regional pavilions-within-a-pavilion. They were intrigued by the Buddhist shrine in the Nepalese pavilion as well as the use of live human models in Qatar's pavilion. The models demonstrated lifestyles in a Bedouin village and Arabic café. While they thought the Iranian pavilion did more than other pavilions to glorify its leader, President Mahmoud Ahmadinejad, they found that the Iranians also made more effort than others to emphasize their ties to China. Nonetheless, they were disappointed by the second floor of the Iranian display that, in Mark's opinion, amounted to little more than a cheap Persian rug market. Although the Brouwers took in quite a lot in a short time, the Expo is vast and there is still much more to see on future visits over the next three weeks.
See more photos, and a series of night shots by Professor Brouwer,
here
.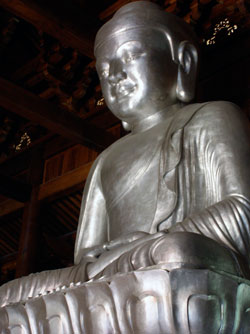 My sightseeing this week included a visit to Jing'an Temple with its huge silver Buddha. Worshippers are drawn to this temple in particular to pray for wealth. Whether the very upscale shopping mall next door benefits from their answered prayers was not something I could determine. On Friday afternoon, Filip took Ethan and me on a lengthy tour of his old haunts at Fudan University. We had a chance to visit the IES office there and explore possibilities for future Wabash immersion trips
.
Later in the weekend, I headed to the Pudong area and the observation deck of the 468 meter Oriental Pearl Tower — great views of city landmarks and the even larger skyscrapers nearby — the Jin Mao Tower (421 meters), the World Financial Center (491.3 meters) and the still-under-construction Shanghai Center (expected to be 580 meters). I passed the afternoon with the fishes – visiting the exceptionally fine Shanghai Ocean Aquarium.
Sunday I enjoyed a day of rest sitting by the lake in nearby Changfeng Park and reading Stuart Schramm's The Thought of Mao Tse-Tung until late afternoon. Later in the day Filip, Mark, Ethan and I attended 6 p.m. Mass at St. Ignatius (Xujiahui) Cathedral, the 100-year-old Gothic structure much damaged during the Cultural Revolution, and used as a grain storage facility before being restored in 1980. The 94-year old Bishop Aloysius Jin Luxian, imprisoned for almost 20 years, stood by and blessed communicants. Mass was well attended and sung in Latin as TV screens showed the Latin and Chinese lyrics as well as Chinese and English versions of the scriptural readings. The first reading for the week -- Abraham bargaining with God over the salvation of Sodom and Gomorrah — no doubt will offer inspiration to Ethan as he shops in the week ahead.