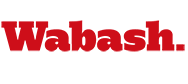 Blueprint Experiences Alumni Hospitality in Indy
by Kyle Bender

July 15, 2010

On Wednesday, the Blueprint Summer Program traveled to Indianapolis, where they were entertained by a host of Wabash alumni and current students.

The thirteen participants are interested in either law or medicine. This is the first year the Blueprint Summer Program has come to Wabash College.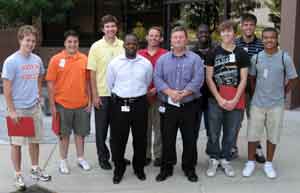 Five students participating in the pharmaceutical development program visited the Eli Lilly Technology Center. Alonzo Weems '92 and Jared Fennell '93 helped host the visitors, who were able to see firsthand several steps in the pharmaceutical process, including synthesis of a potential drug, purification and crystallization of the drug, and understanding the hazards involved with the creation of the new drug.
Wabash Chemistry professors Scott Feller and Walter Novak, along with Director of Operations of the Center of Inquiry Bill Doemel, accompanied the students on the field trip to Lilly.
"The real magic of the visit to Lilly was the opportunity to talk with the technical staff," said Doemel, who is helping coordinate the event for Wabash. "We were impressed with their enthusiasm and excitement for their work. I believe that our students got to see a glimmer of the all the work required to bring a potential drug to the market."
Meanwhile the law and ethics program, led by Wabash professors Scott Himsel '85, Cheryl Hughes, and Todd McDorman, traveled to the Indiana State House to meet with the Honorable John Baker, Chief Judge of the Indiana Court of Appeals.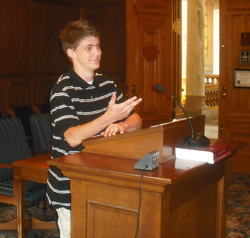 Judge Baker shared his time very generously with the class about a difficult "right to die" lawsuit in Bloomington, Indiana in the 1980s that generated substantial national and international interested.
"Judge Baker discussed the case in very real, direct and human terms," Himsel said. "He also explained how the publicity generated by the case led to the creation of ethics panels at hospitals nationwide to assist families in making difficult life and death decisions. Knowing that our students would be engaged in moot court role playing exercises on Thursday and Friday, Judge Baker advised the students about how to be both a good advocate and a good judge."
Following the meeting with Judge Baker, the group traveled to the law firm of Baker and Daniels, where they met with Himsel, Andrew McCoy '05, and Steven Badger '87, all local attorneys. The panel discussed with the students how Wabash College helped prepare each of them for law school and about their individual law practices.
After touring the NCAA Hall of Champions and having dinner at a popular steakhouse, the group returned to Crawfordsville. The groups were back in the classroom Thursday. Click here to see photos from Thursday afternoon. The Blueprint Program runs until July 17.