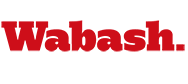 Blueprint Camp Continues: Head to Indy Wednesday
July 13, 2010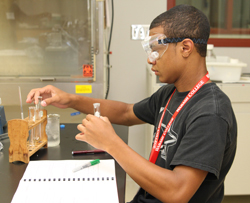 They've been on campus less than two days, but thirteen young men involved in the Blueprint Summer Program have already gotten a taste of what their college course loads might one day look like. Click
here
to see photos from Blueprint Summer Programs at Wabash.
"We're thrilled to be offering young men from high schools throughout the country the opportunity to experience the college classroom," said Bill Doemel, director of operations for the Center of Inquiry in the Liberal Arts. "Five young men are currently exploring the biology and chemistry of drug development. Eight young men are engaged in a very different course that focuses on the issues of life and death as those intersect with ethics and law."
For the pharmaceutical development program, Wabash professors Ann Taylor, Scott Feller, and Walter Novak from the Chemistry Department are leading the students.
"We have already learned what pharmaceutical drugs look like and how they are created," said Dillon Shellman, who attends Central Noble High School near Fort Wayne, Ind. "It was really interesting for me because I enjoy science and am interested in entering the medical field."
The students will travel Wednesday to Eli Lilly and Company in Indianapolis. Wabash alumni Jared Fennell '93, Principal Research Scientist, and Alonzo Weems '92, Assistant General Counsel, have organized a visit to the company so students will see first hand how new drugs are discovered and developed.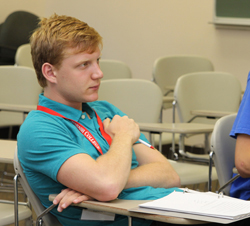 Wabash professors Scott Himsel, Cheryl Hughes, and Todd McDorman are joined by Kris McAloon, a Constitutional Law and A.P. Government teacher at Lawrence North High School in Indianapolis, and are confronting and considering some of the legal and ethical issues that arise from decisions about life and death.
McDorman led a session Tuesday morning that focused on the exploits of Dr. Jack Kevorkian, better known as "Dr. Death." McDorman presented several videos reporting Kevorkian's activities that gave different views on the doctor's role in physician-assisted suicides. The students were then asked to discuss the material and defend their thoughts.
"We are trying to give the students exposure to a wide variety of questions that are at the intersection of law and ethics, but also involve public policy" McDorman said. "These questions touch a number of subjects that might not be available in the high school curriculum – philosophy, rhetorical studies, and constitutional law. The students have been very engaged to this point and they have already had their beliefs tested."
Students in this track will meet with Judge John Baker, who is Chief Judge of the Indiana Court of Appeals. Judge Baker, in 1982, made a crucial legal decision concerning the fate of "Baby Doe," a child born with Down's Syndrome and an incomplete esophagus. Judge Baker will be talking about this case and the ethical and legal issues surrounding it.
While these academic experiences are at the core of their week on campus, these students also have time to relax, to know each other better, to know Wabash students, and to know the opportunities of the campus. Students also have the opportunity to learn about college admissions procedures from Wabash Admissions staff.
Along with field trips to Eli Lilly and Judge Baker Wednesday, the group will also visit the NCAA Hall of Champions, spend time in downtown Indianapolis, and have dinner at a popular steakhouse.
The Blueprint program runs until July 17.
In photos: above right - Quenton Stokes-Brown works on a lab in the chemistry track, above left - Lawson Roth listens to the ethics discussion during the Life and Death Ethics and Law track.