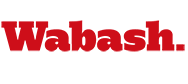 Wabash, DePauw Renew TV Deal with HDNet
by Brent Harris

July 13, 2010

Wabash College and DePauw University have renewed a three-year contract with HDNet to broadcast the annual Monon Bell Classic football game.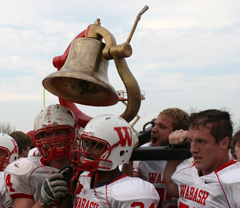 HDNet has provided a live, national telecast of the annual rivalry between the two schools for the past four years (2006, 2007, 2008, and 2009) and five times over the past seven seasons (2003).
Wabash holds a one-game edge in overall series (54-53-9) after reclaiming the 350-pound Monon Bell with a 32-19 win in Greencastle, Indiana. DePauw holds a two-game advantage since the Bell became a part of the rivalry in 1932 (37-35-6).
The two schools will meet on November 13, 2010 in Crawfordsville, Indiana. The new contract also includes the games to be played in 2011 and 2012.
"Rivalries don't get any closer than this, especially after 116 games, and the Monon Bell is a truly special event," says Mark Cuban, president and co-founder of HDNet. "I'm thrilled that we're able to continue our partnership with DePauw and Wabash, and ensure continuity for our viewers and keep a great college football rivalry on the HDNet program schedule."
"I think any football player loves the opportunity to play in a game that is broadcast live throughout the nation," Wabash head football coach Erik Raeburn said. "Family and friends scattered throughout the country can watch the game live, and alumni who cannot get back to campus for the game can still enjoying being a part of the rivalry."
Alumni offices at both schools will work together in the upcoming months to put together telecast parties throughout the country. Fans and alumni gathered at 66 different broadcast party locations to view the 2009 game.
"All of us at Wabash are thrilled that we have in place another three-year
deal with HDNet, which will allow the entire nation to witness what those
of us from Wabash and DePauw have long known - that the Monon Bell Classic
is the finest rivalry game in all of sports," said Jim Amidon, director of public affairs and marketing at Wabash. "We're especially grateful to our HDNet partners, who have recognized the greatness of the rivalry and helped us celebrate it."
"I can't say enough about the quality of the work Darrell Ewalt (executive producer of sports for HDNet) and his team do year after year," adds Ken Owen '82, executive director of media relations at DePauw. "This is great news for the alumni who gather at telecast parties in more than 60 cities, the thousands of alumni who tune the game in at home and for the rivalry itself. Each November, HDNet exposes many new people across the nation to our two fine colleges and this great tradition."
HDNet is the first national television network broadcasting all of its programming in high definition. Launched on September 6, 2001 by co-founders Cuban and Philip Garvin, the HDNet networks are available in the U.S. and Canada on DIRECTV, DISH Network, Charter Communications, Comcast, Insight Communications, Mediacom Communications, NCTC Affiliated cable systems, Verizon Fios, Bell Express Vu, Star Choice, Shaw, and Cogeco.