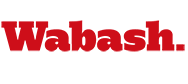 Professors Experience City, Bargaining
July 9, 2010

Professors Melissa Butler, Mark Brouwer, Ethan Hollander's Second Week in China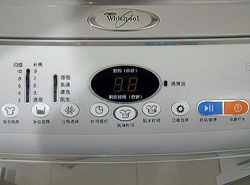 In our second week here, we continued to encounter all sorts of new challenges: our apartments all have washing machines. Unfortunately, the washing machines don't come with instructions—or translations. (photo) What does the picture of a shirt mean? Or a snowflake? Or a gear? After a certain amount of trial and error, the water would drain and the washer would spin and clothes would be clean and ready to hang on the drying rack.
We experiment with new food and drink—did you know PABST markets a black beer here? Grilled squid on a stick is really quite delicious. And beans, shaved ice, and custard can make an interesting looking—if not necessarily great tasting—dessert.
While it may depend a little on whom you ask, the population estimates for Shanghai hover around 18 million. Sometimes I'm pretty sure all of them are changing trains at the same metro stop—the one where I happen to be.
People are everywhere— despite ad campaigns devoted to teaching the advantages of lining up in an orderly fashion, queuing (in the British sense!) has not caught on here, nor has the custom of apologizing or asking to be excused for violating the personal space of someone else. Crossing the street in Shanghai offers an exciting new cultural experience. Traffic lights and one-way traffic signs merely offer suggestions of behaviors drivers, cyclists, motor bike riders or pedestrians might wish to consider adopting. Certainly no one sees it as legally binding to stop just because the light is red. And yet people negotiate the constant human ebb and flow with remarkable tolerance, even in the sweltering heat of Shanghai summer.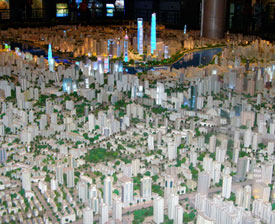 The Chinese aren't simply relying on luck or patience to accommodate their population. The Shanghai Expo's theme, "Better City, Better Life" is inescapable and a visit to the Shanghai Urban Planning Exhibition Center underscores the goals and careful planning for urban development. The Center details the history of Shanghai's development and also features a huge model of the city (photo) and a circular screening room that takes visitors on a wild 10-minute ride through Shanghai. What a trip!
Ethan Hollander and Mark Brouwer are becoming accomplished bargainers—they've managed to shave the price of "Rolex" and "Longine" watches below the 50 yuan mark (less than $8). Melissa Butler has taken in most of the museums around People's Square and enjoyed a stroll through the French Concession, a part of the city ceded to and administered by the French for almost 100 years from the mid-19th to the mid-20th centuries.
The area features some of the toniest shops—Cartier, Mont Blanc, Van Cleef & Arpels and Piaget, all in a row (note: these are NOT the places where Mark and Ethan shop!), lovely "heritage" sites, that is to say, preserved examples of European domestic architecture, and historic residences (Chou Enlai and Sun Yat-sen slept here — their homes are located a couple of blocks apart). The sky-scrapers are gone. Streets are tree-lined, and uncrowded. Fuxing Park, also part of the neighborhood, shows many French gardening influences.
There's a small amusement park with a jungle train ride. Children and their parents can ride a little train around a track with lions, tigers, elephants and penguins in the center. (Did I say jungle? Maybe
not exactly
) Theme music plays "It's a Small World" and the passengers shoot at the animals!!! (see the video on
Melissa Butler's Facebook page
) Not far from the park, there's a rabbit warren of boutiques, restaurants and galleries, a French bakery, the wonderful "Old China Hands Reading Room" and about every variety of international cuisine one can name.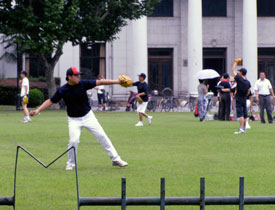 Last time I mentioned the tennis and basketball courts, but I said nothing about the other sport I've observed—baseball!!! Apparently, it's a weekly occurrence. By 10 AM on Sunday morning, local baseball aficionados had gathered on a lawn near the University's main gate to learn the basics, practice skills and play some games. This week 2 or 3 young men appeared in uniforms as well as another 20 or so with fielder's mitts. The uniformed players were experts who clearly knew how to play and how to instruct the others in the fine points of catching and throwing. Six hours later (when I returned from the French Concession) play was continuing. (photo)
Ethan, Mark and I continue to experience our own version of "Wabash in China." (photo) This week we had dinner with Victor Meng, '09, who has returned from graduate school at Miami University (Ohio) to work for a company promoting American liberal arts colleges to Chinese high school students. Later this summer, we'll participate in a College Fair his organization is putting on here in Shanghai.
Mark's wife, Ann, arrived yesterday for a week and we are having our second consecutive sunny day. Life is good in this part of the People's Republic.
First Week in China
Arriving late Saturday evening, we spent the 4th of July holiday working on survival matters – getting Chinese cell phones, locating our classrooms and office space, and figuring out how to connect to the internet. Those tasks completed, and jetlag overcome (the trip itself took about 30 hours) we've had some time to begin exploring our surroundings.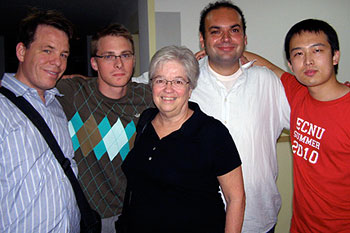 East China Normal University was begun in the early 50's as a teacher's college. The approach to the original building features a long low wall with the motto "Seek Truth, Foster Originality, and Live Up to the Name of Teacher." Above and behind the sign is a larger than life statue of Mao Zedong.
The University has expanded to more than 20,000 full time students, including 2,700 international students. There are about 2000 on the faculty. So, on the face of it, ECNU seems like quite a change from Wabash (without even mentioning the fact that there are more women than men in my courses!). But, the campus is surprisingly green and beautiful with canals, gardens, pavilions and bridges all around. Tennis and basketball courts and a track add to the sense of spaciousness. The classrooms are well-equipped and the classes are small, averaging 12-15 students per class. Most students are Chinese and attend college or university in the US—those in my classes come from Berkeley, USC, St. Louis University, Case, Pitt, Georgetown, Grinnell, Smith, Mt. Holyoke, Miami of Ohio, Boston University and Rose Hulman. Most common majors are business, finance, management, economics, and engineering.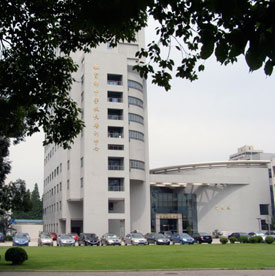 We're housed in the Foreign Experts' Building. It's a new facility with very comfortable well-appointed accommodations—each with bedroom, sitting room, bath and utility area with refrigerator, washing machine, tea kettle, and not one, but two large, flat screen TVs (thus, allowing us to monitor both of the English language stations available!)
Outside the university gate nearest our lodging, we find Trust-Mart –a Chinese Target/Walmart equivalent. (In fact, some products on the shelves actually carry Wal-mart tags). At Trust-Mart we've obtained all the basics—hangars, chopsticks, laundry detergent, not to mention Great Wall Cabernet. On each visit, we discover some new product—who knew that Lay's made "Numb and Spicy Hot Pot" Flavored potato chips or that people drink corn juice? Upstairs, one may purchase appliances, clothing, children's toys and sporting equipment. A number of stands and small shops dot the street in front of Trust-Mart. There, cooks serve up delicious meals of crawfish, noodles, and meat or vegetable-filled steamed buns.
On the other side of the University, we find Changfeng Park, 364,000 sq. meters, with an enormous man-made lake at its heart. On a mid-morning walk through the park, I saw families in pedal-boats, couples doing ballroom dancing, lotus ponds, a grandfather helping his 3-year old grandchild learn to ride a scooter, and a woman (who reminded me of Jean (Mrs. Eliot) Williams) entertaining a group of pensioners with a spirited rendition of traditional songs accompanied on a two-stringed instrument.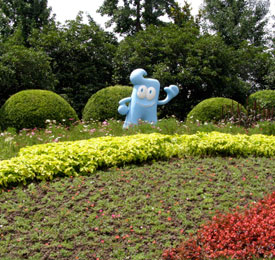 The nearby parks and gardens have been welcome ways to beat the heat. A record heat wave has been sweeping China since our arrival. Here in Shanghai daily highs have been in the mid 90s with 100% humidity. Fortunately, the lodgings and classrooms have air conditioning.
Classes run Monday thru Thursday. Two (100-minute) classes plus office hours keep me busy from noon to six. Then it's time to find a restaurant for dinner—we have decided to eat at a different restaurant everyday! During our first week, we were treated to a welcoming dinner with officials from the University including Zhao ZhongJian, the Dirctor of the Global Education Center, and Huang Meixu, Deputy Director of the International Exchange Division, and Sun Qi, from the International Students' Office. It was a fun evening and a good chance to get to know ECNU and American colleagues.
US faculty include professors from Grinnell, Berkeley, the University of Illinois, Mt. Holyoke, Miami (Ohio), and Auburn. Wabash has had a large presence in the program, with faculty, student assistants, star recruiter Hao Liu, '12, and, on Thursday night, the first speaker in the Business Program that complements the curriculum. Khurram Tahir, '01, who has been serving as Motorola's Director of Strategy and Business Development for the Greater China Region, shared his story as an international student, educated in the US, pursuing a business career. His presentation was well attended and sparked lots of questions. (I took no small amount of pleasure in having this political science major lecture business majors on how to get ahead!!!) Khurram, by the way, serves on the Board of the National Association of Wabash Men (and thinks, and I agree, that it's time to change the name to the INTERNATIONAL Association of Wabash Men.)
It's now Friday, the first day of our 3-day weekend. Mark Brouwer has gone off to a conference in Beijing and Ethan Hollander and I are looking forward to spending the day with Filip Lempa, '11. He's been studying in China for the last 8 months and has made tremendous strides in learning Chinese. He did a great job negotiating the price of our new cellphones! His skills will come in handy this afternoon on Nanking Road—shopping central in Shanghai.
In Photos: The Wabash "Group" - Ethan Hollander, Filip Lempa, Melissa Butler, Khurram Tahir, '01, and Hao Lui '12. Center left: The Foreign Experts Building. Lower right, Changfengpar.