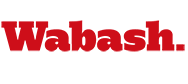 Wabash Receives Grant to Promote Financial Literacy
July 8, 2010

Wabash College will share an Indiana Independent College & Universities $10,000 grant with Franklin College and Valparaiso University to promote "Financial Literacy on Campus."

The Wabash College chapter of Students in Free Enterprise, along with the Financial Aid Office, will produce four "MoneyCam webisodes" as a "Guide to Financial Management."

The ICI initiative was made possible by the PNC Foundation, which receives funding from the PNC Financial Service Group. All member colleges of the Independent Colleges of Indiana were invited to submit proposals for how they would use the funding to address the critical need for college students to acquire and understand basic skills in economics, personal finances, and the responsible use of credit.
"Teaching young people how to manage their money for success in work and in life is a priority for PNC," said Steve Stitle, PNC regional president for Indiana. "We look to invest in the communities we serve, and one way is by funding creative programs that address financial literacy."
The Wabash project will use humor in their project. The webisodes will show how to create a budget, choose and use credit cards, read a credit report, and invest; they will be used in campus workshops, posted on YouTube and the Wabash website, and promoted and utilized by Workforce One in Crawfordsville in working with Head Start families.
The PNC Foundation
, which receives its principal funding from The PNC Financial Services Group (NYSE: PNC),
actively supports organizations that provide services for the benefit of communities
in which it has a significant presence. The foundation focuses its philanthropic mission on early childhood education and community and economic development, which includes the arts and culture. Through its signature cause, Grow Up Great, PNC has created a 10
-year, $100 million initiative to enhance early childhood education and school readiness.
Independent Colleges of Indiana, Inc.
(ICI) is a nonprofit corporation that represents the state's 31 nonprofit, accredited, undergraduate degree-granting institutions of higher education. ICI member institutions enroll more than 85,000 students (approximately 22 percent of all higher-education students statewide) and annually produce more than 35 percent of all bachelor's degrees in Indiana.