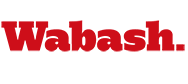 Wabash Club of Chicago - A Day at Wrigley
by Tom Runge

June 19, 2010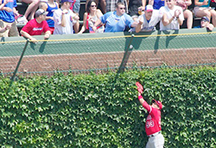 It was the hottest day of the year thus far in Chicago. It was sticky humid. But it didn't matter...a good time was had by all.
A good crowd of Wabash alumni and their family and friends got together for a great lunch at Moe's on North Clark and a fun day at historic Wrigley Field.
The Cubs lost the game, 7-6, to the Angels but that didn't dampen the spirits of the Wabash group. Many mentioned the draw of historic Wrigley while at the same time buzzing about the changes happening at Wabash. Guys say they will miss baseball in Mud Hollow but everyone is excited about Wabash's new baseball stadium!
Many thanks go to Eric Schoettle '93 for setting up the entire outing. A special thanks to Eric because, well, Eric is a White Sox fan!
Photo: Derrek Lee's home run barely clears the fence...
For more photos, click here.