It came as little surprise that the Class of 1960 — celebrating its 50th class reunion at the 2010 Big Bash — nearly swept every reunion award at the Big Bash Awards Brunch on Sunday.
See photos of the Brunch here.
Reunion Chair Dick Kite and Class Agent Charlie Quillin organized and executed a reunion that brought back to campus 53 men out of an original class of 113 who entered in the fall of 1956.
With that many alumni back on campus to celebrate, the class was rewarded with the 1909 Trophy Cup, which recognizes the highest percentage of alumni returning (45.3%), and the 1928 Attendance Trophy for the most alumni returning for Big Bash.
See photos of reunion attendees here.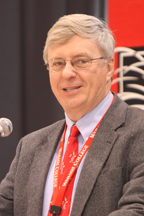 "To the 50th reunion class, the men of 1960, special thanks for your extraordinary gift presented Friday night," President White said when he addressed the luncheon crowd. The class made a 50th reunion gift of $3.7 million, which was presented at Friday's Big Bash Banquet.
"For all of you alumni, I know your love and loyalty fuels your giving, but please know your generosity fuels so much at Wabash," the President continued. "Because of you, the Glee Club is able to travel to Ecuador and have an amazing experiencing singing and serving. Because of you, Wabash men are able to do research on campus this summer with their faculty… Because of you, we will be able to complete athletic fields project… Because of you, we are able to hire, nurture, and retain not just good faculty, but faculty who are right for Wabash… Faculty who want, as part of their calling, to transform a young man's understanding of what he can do, and even more important of who he can become."
A total of 274 men signed the official Alumni Register. Eric Farber '65 traveled the farthest — from Turkey — while Jack Campbell '60 came all the way from France. Paul Moehling, Keith Baird, and Bob Remley were teased since none had to travel more than a few blocks to come to Big Bash.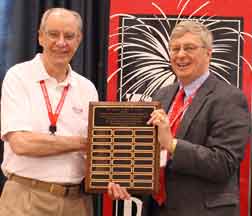 For his exemplary efforts, Dick Kite (left) received the Dorman Hughes Award, which is presented annually to the person who did the most work in organizing his class reunion.
"With a year's hard work, countless phone calls, a lot of sweat, and the absolute best reunion book we have ever seen, the award goes to Dick Kite," said Tom Runge '71, Director of Alumni and Parent Relations.
The Class of 1960 also received the Edmund O. Hovey Annual Giving Award for having 59 percent of the class make a gift to the Annual Fund.
The only award that wasn't captured by the 50th reunion class was the Robinson-Ragan Award, which is presented to the class that captures first place in the Alumni Chapel Sing competition. Scott Himsel, Class Agent and song leader for the Class of 1985, received the honor. The Class of 1985 narrowly beat the classes of 1960 and 1965 in Saturday's competition.
President White bid the alumni and their families goodbye with remarks that were full of pride and encouragement.
"This hunger to learn, to know, the desire to be part of the grand conversations of teaching and learning — the grand conversations at the heart of the liberal arts — is alive here at Wabash because it remains vital in your lives," said President White.
"Just as I hope that you go away revitalized, please know that all of us — from students, faculty, and staff who have had a chance to engage with you this weekend — we are revitalized by your presence. We are able to look at you and say, 'Yes, there you are Wabash.'
"You leave us your encouragement in the most literal sense," the President concluded. "You give us all at Wabash the courage to do the good work to make this great College even better… We who have the pleasure and honor of serving your College and carrying on your work, we thank you from the bottom of our hearts."
+++
Just before the President shook the hand of each member of the Class of 1960 at Friday's Big Bash Banquet, Director of Alumni and Parent Relations Tom Runge '71 addressed the class.
"The Wabash family may be small, but I want you to know how very proud we are of your accomplishments and I thank you for returning to your alma mater," Runge said.
Kite was the first to receive his medallion from the President, followed by Quillin, who then introduced each member of the class back for the reunion.
"Many of you come back to a place much different in buildings and names," President White said to the Class of 1960. "And though your own faces may change every so slightly, there is also so much that remains in your core that is truly Wabash."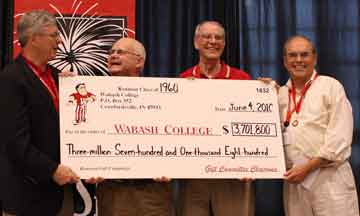 Following the awarding of the medallions, John Bachmann '60, Chairman of the Reunion Gift Committee, gave President White an oversized check for $3.7 million, which far surpasses the goal of $2.2 set for the class.
A slightly shocked President White said in response, "Every gift to Wabash is a gift of an education for the next generation of Wabash men."
A tradition at every Big Bash Banquet is embarrassing a few folks who celebrate milestones. Kyle and Betsy Carr '85 were celebrating their 17th wedding anniversary at the Bash, and Jacob Pactor, son of Peter Pactor '65, celebrated his 13th birthday.
At the end, though, the evening was about those 54 men from the Class of 1960 and the families who returned to Wabash with them to celebrate their golden anniversary of commencement from Wabash.
"Each of you realize that how ever far you've come or how many years have passed, you are tonight young again. You are again Wabash men… You realize that Wabash is with you wherever you go.
"The College drew out of you your greatest dreams and your greatest imagination of yourselves… When you live out the Wabash mission of educating men to think critically, act responsibly, lead effectively, and live humanely, Wabash sings through your life. And what a beautiful song it is."
++++
Scattered throughout the weekend were alumni-led teaching and learning sessions called Big Bash Colloquia. A dozen alumni back for the Bash will talk on topics as varied as Dean Reynolds' career in network news to starting a brewery to opening a bed and breakfast.