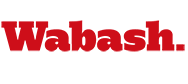 Wabash Men Take Advantage of Summer Opportunities
by Kyle Bender '12

May 27, 2010

Summer may be a time for some college students to kick their feet back and relax, but many Wabash men are fully immersed in internships and research opportunities.

Scott Crawford, Director of the Schroeder Center for Career Development, said there are approximately 125 students involved in Wabash-funded programs alone, not to mention the countless others who obtained employment from outside sources.

Crawford said that although the number of funded internships available has diminished in the last few years due to the expiration of several grants and programs, more Wabash students are seeking summer opportunities.

"A survey we just gave to our recent graduates found that 68 percent completed at least one internship during their time at Wabash," Crawford said. "Over the course of my five years with the College, I've noticed that students have become more prepared when undergoing the application process, and also have higher expectations of what they plan to take away from their internships."

The competitive job market has caused the trend to occur not just at Wabash, but with colleges and universities across the nation. More employers are expecting prospective hires to have prior experience in their field, while graduate schools look for internships to better solidify a student's application.

It is the work of the Career Services team to help Wabash students gain the inside track on the internship process. They provide students with a number of opportunities throughout the academic year to perfect important skills such as producing a cover letter and resume, interviewing for a position, and networking opportunities with alumni. The Schroeder Center even hosts an etiquette dinner for Wabash men to improve their fine dining skills.

One of the most integral parts of the Career Services program is the number of College-funded opportunities for students. The unique internships have become increasingly popular among students and alumni alike, as many of the internships link students with Wabash graduates.

Some Wabash-funded internship programs include: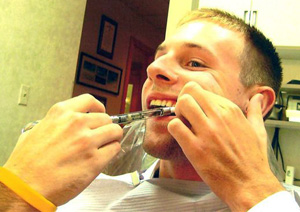 Dill Fund: The highly competitive grants, funded by a gift from G. Michael Dill '71, are internships that expand an area of study in a way not available through Wabash's traditional curricular offerings. The program is administered the Dean of the College.
Cameron McDougal '12 received a Dill Grant and will be working as a student dental assistant at Matthew 25 Health and Dental Clinic in Fort Wayne, Indiana. McDougal, president of the newly-founded Wabash College Pre-Dental Society, has had an ongoing interest in the dental profession and will help provide free dental care to underprivileged patients. Working with a number of volunteer dentists, including Matt Creech '94, McDougal will be able to add an extra set of hands during oral surgery.
"I will be the primary oral surgery assistant and will handle some of the more routine extractions on my own," McDougal said. "With the lagging economy, the number of dentists who are volunteering at the clinic has declined. The waiting time for a patient to get an extraction is now about six months – that's a long time to wait for something as painful as a broken or dead tooth to come out. My summer goal is to significantly cut the waiting time to get an extraction."
Lilly Grant Business Internships: The purpose of the program is to help fund Indiana internship opportunities with a business focus. Stevan Stankovich '12 and Andre Adeyemi '12 are two of approximately 30 students who have a Lilly Business Internship.
Stankovich is working with Keith Veal '92 and the Northwest Area Development Corporation of Indianapolis, a project that seeks to renovate homes, bring in new business, and make the northwest side of the city more livable for families. Already, Stankovich has helped organize a group of 250 students to volunteer with the construction of a renovated neighborhood. He has also been working with local churches and philanthropic organizations to garner support for the corporation.

Adeyemi is involved in the non-profit industry as a social media intern for Chistel House International, an organization that seeks to end world poverty through education and public health initiatives. While his primary focus is to keep the organization's social media sites and blogs up to date, Adeyemi will also fundraise and market for the organization's annual 'Break the Cycle' Motorcycle benefit later in the summer.
Small Business Internship Fund: The program provides students with internship opportunities with alumni in a small business or entrepreneurial setting. The bulk of the opportunities are located outside Indiana. SBIF is an endowed fund managed by Career Services and funded by Wabash alumni.
Evan Bayless '12 received a Small Business Internship and is working with Rowland Design in downtown Indianapolis, a small architecture firm headed by Eric Rowland '86.
"In just my first two weeks on site, I have been given a variety of responsibilities," Bayless said. "The business has dozens of blueprints, vellum originals, and sketches that need to be scanned and filed electronically into a new archival system that I am currently creating. I also worked with some of the interior designing staff to organize and maintain the business's library. I have been invited to attend all of the staff functions and meetings that allow me to experience planning and organization of a small business."
Business Immersion Program: The eight-week summer program on campus introduces students to the principles behind entrepreneurship and consulting. The program runs from late May through mid-July. Participants spend classroom time discussing readings, case studies, and projects.
Guest speakers, many of whom are Wabash alumni, will visit to discuss facets of business and share their own experiences. Students take field trips to businesses and events throughout Indiana. The program includes two intensive team projects: creating an original business plan and working on a consulting project for a local organization. Teams give presentations on both projects, and a panel of experts evaluate the business plans.
The Business Immersion Program has 15 students participating.
Academic Interns: There are over 50 Wabash students working on campus. The unique opportunities allow for students to assist professors with cutting edge research projects or to help in administrative offices. Many of the on-campus interns choose to reside in College Hall, adding an extra bustle to the campus through June and July.

Austin Drake '11 is doing biochemistry research with Dr. Walter Novak. Currently, Drake and his fellow chemistry research interns are studying a particular protein and observing what structures are important to the function.
"The opportunity to work as an intern holds several advantages for me," Drake said. "Most simply, it provides a justification and application for all of the information that I have learned through the semesters in chemistry courses. In addition, it is a great way to get to know my peers and professors outside of a classroom setting. Learning from academics in a real-world environment will at the very least prepare me to meet readily the problems and challenges posed by my future career in science."
For a more complete list of the many places Wabash students are interning, along with some of the professional schools and full-time positions recent graduates of the Class of 2010 have been accepted to, click here.