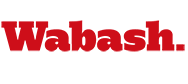 Wabash Takes Six to Nationals
by Jim Amidon

May 25, 2010

Wabash track coaches Clyde Morgan and Roger Busch devised a plan at the beginning of the 2010 outdoor track season. Knowing they had a very young team with enormous potential and talent, the coaches set a goal of taking a large group of underclassmen to the NCAA Division III Championship meet.

Mission accomplished.

Wabash will send six athletes representing four events to this year's championship meet and only one of them, Emmanuel Aouad, is a senior.

"Our main goal was to get as many guys to nationals this year as possible," said Morgan. "We just wanted them to get there and have the experience so they would know what it takes to become an All-American."

Aouad qualified for nationals in the 110 meter high hurdles, junior Wes Chamblee in the 400 meter intermediate hurdles, and sophomore Kevin McCarthy made it in the 1,500.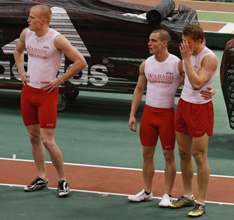 Morgan's 4x400 relay team is made up entirely of underclassmen — a junior, two sophomores, and a freshman. And while that relay quartet just barely made it into the national qualifying field of 16, Coach Morgan is pleased nonetheless.
"Being seeded 15th isn't necessarily a bad thing for us," Coach Morgan said. "We won't have a lot of pressure on us going in, so hopefully we can just relax and run a good race. We drew a fast preliminary heat and we have a good lane, so our guys will be right there knowing what it takes."
Chamblee anchors the relay team, which includes sophomores Jake Zielinski and Garrett Bonk, and freshman John Haley (pictured). The team qualified in a school record time of 3:15.07.
"This is a pretty big deal for me," said the freshman, Haley, who qualified for the state championship meet in the same event a year ago. "I've learned a lot this year just being around these guys. The coaches have taught me so much and I've learned a ton from the upperclassmen."
Zielinski sees the trip to nationals as a great opportunity. "We have this unique opportunity to go to nationals and make the best of it," he said. "I've had a great year running with these guys; it's been the best track season I've ever had.
"We just want to go in, stay loose, have fun, and do our best. After that, we'll just see what comes of it."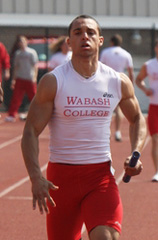 Expectations are a bit higher for Chamblee and Aouad, who qualified individually with school record times in the 400 intermediate hurdles and 110 high hurdles, respectively.
Chamblee (left) ran a time of 52.04 seconds at a meet at North Central College. The time broke his own school record and is the third fastest time in Division III this year. He's nursing a tight hamstring according to Coach Morgan, but the injury hasn't dampened enthusiasm.
"I'm so excited I can hardly wait," said Chamblee, who is also a star receiver and returner on Wabash's football team. "I've been looking forward to this opportunity all season long, and I'm glad to be able to go with so many of my Wabash brothers."
"Wes just needs to stay calm and try not to get over-excited from all the intensity and hype of the national meet," said Morgan. "I just want him to have a great time, enjoy the experience of being there, and remember that it is just track and field. He just needs to take care of business in the pre-lims and let it all happen."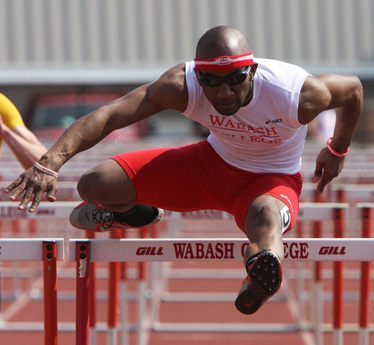 Aouad
(right)
was the lone qualifier for the national outdoor meet a year ago. He's thrilled that he won't have to go it alone this year. "As for my race, it's only 10 hurdles," the indoor All-American said with a chuckle. "I'm looking forward to being a cheerleader for all these other guys."
Coach Morgan likes Aouad's chances in the 110 meter high hurdles. He clocked a school record time of 14.52 seconds, which is eighth quickest in the field.
"Our goal for him indoors was to become an All-American, and we accomplished that," the coach said proudly. "Who knows what will happen this year. Not very many of the national qualifiers have been consistent, so it's really any man's race. Eman will be running in the lane right next to the defending national champion, and he's always run well against him."
Sophomore Kevin McCarthy's path to nationals was, perhaps, the toughest.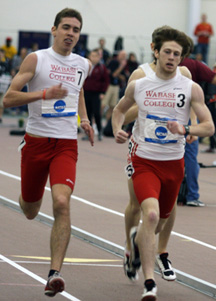 He was one of two Wabash men to qualify for the national championships in cross country, finished sixth in the indoor 800 to become an All-American, and this week becomes the first runner in Wabash history to qualify in all three national championships in running.
(McCarthy and teammate Jake Waterman are pictured.)
It almost didn't happen. McCarthy, whose natural event is the 800, suffered a serious injury in the middle of the season and missed two full weeks of practice and essentially a month of competition. His coaches were reluctant to bring him back too early, but he returned to compete in the 1,500 at the conference meet and finished second in a time of 4:01.01. Two weeks later he shaved 10 seconds off that time to set a new school record of 3:51.65 and make the national meet.
"To qualify for nationals is a big surprise, a good surprise," McCarthy said. "I was injured for so much of the season that this is really special. My goal is to make it to the finals."
His cross country coach, Roger Busch, knows a bit about toughness. He was the last Wabash athlete to become an All-American in cross country and track in the same year, 1995-96.
"Kevin has had a challenging season, both individually and athletically," Coach Busch said. "He doesn't have a ton of top-end speed, but he is so tough; he's one of the toughest competitors I've ever seen. If he ever gets truly healthy, watch out. Who knows what he might do?"
Even with six athletes heading to nationals, there is a somber tone since one of the most talented men on the team missed out on qualifying. Freshman Jake Waterman, who was seventh at the indoor national meet in the 800 meters and became an All-American, pulled his hamstring in the outdoor conference meet. After aggressive rehab, Coach Morgan feels comfortable taking him as an alternate on the 4x400 relay team.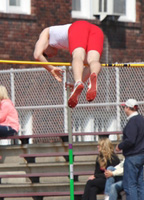 Just as promising is rookie pole vaulter Matt Knox
(right)
, who twice broke the Wabash school record this year and narrowly missed the automatic qualifying standard for the national meet when he cleared 15 feet, 4 ½ inches (4.68 meters; NCAA cut was 4.70).
Another freshman, Evan Groninger, just missed the provisional qualifying mark in the javelin. His top throw of 55.94 meters (183' 6") was just one meter off the national standard.
Coach Morgan seems as excited as any of the runners he'll be taking to the national meet.
"It's just awesome to take so many young guys to the biggest meet of their lives," he said. We'll use Eman to keep the rest of the guys calm since he's naturally so loose and has been there before. And if everybody stays loose and runs the way they are capable of running, we'll have a good chance to bring home some All-Americans."