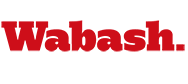 Wabash Well Represented at Nationals
by Brent Harris

May 24, 2010

Six Wabash College athletes will compete this weekend at the 2010 NCAA Division III Outdoor Track and Field Championships in Berea, Ohio. Emmanuel Aouad, Wes Chamblee, and Kevin McCarthy each earned individual berths, while the 1600-meter relay team of Jake Zielinski, Garett Bonk, John Haley, and Chamblee will also compete.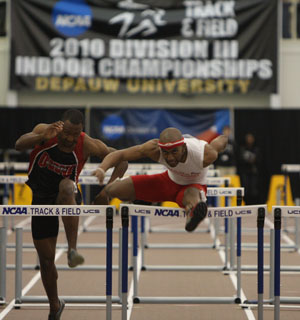 Aouad (left), a senior who was one of three Wabash runners to earn All-America honors at the 2010 Indoor Championships earlier this year, will compete in the 110-meter hurdles. His qualifying time of 14.52 is eighth-fastest among the field of 16 runners selected to participate.
Chamblee earned an automatic berth in the 400-meter hurdles with a time of 52.04 set at North Central College. The junior's time is third best among the competition.
McCarthy also earned All-America honors during indoor season in the 800-meter run. This time he will participate in the 1500-meter run, qualifying with a time of 3:51.65. The sophomore has now qualified for all three NCAA running championships this year, finishing 46th at the 2009 NCAA Cross Country Championships followed by his sixth-place finish in the 800 at the indoor championship meet.
Zielinski, Bonk, Haley, and Chamblee set a new Wabash record in the 1600-meter with their qualifying time of 3:15.07.
The national championship meet will take place May 27-29 at Tressel Field on the campus of Baldwin-Wallace College.