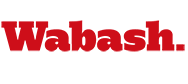 College Honors Retiring Faculty/Staff
by Howard W. Hewitt

May 14, 2010

Nine members of the Wabash College staff and faculty were honored Friday for their nearly 250 years of service to the College.

(See photo albums of the event here and here.)

The nine were honored by colleagues and administration during a noontime luncheon. President Patrick White concluded the ceremony by thanking those who have made a difference at Wabash.

"We thank you for all you do and have done to define Wabash and to be Wabash," the President said. "May the thanks of a grateful Wabash travel with you."

The nine honored were: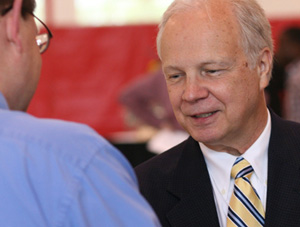 -
Dr. James Makubuya read a short citation honoring Professor of Music
Larry Bennett
. "Students describe him as 'generous with his time, tough but fair, a professor that raises expectations, a thoughtful and challenging teacher. He challenged and encouraged his students to extend established intellectual boundaries and to become critical thinkers …"
-
Wabash Chief Financial Officer Larry Griffith subbed for Director of Campus Services David Morgan, who was ill. Griffith recognized
Ron Bowerman
, Store Room, and Carpenter
Joe T. Perry
.
"Joe is widely known around the Wabash campus as always being very helpful and always providing a friendly smile as he was carrying out his assigned skilled duties."
"Ron enjoyed his interaction with the students and staff during his employment at Wabash College and will be remembered for his colorful stories by all."
-
Laura Connors
, Lilly Quality of Life in Indiana Grant Facilitator, could not attend Friday's luncheon. She has served the college in a number of capacities since 1981.
-
Professor of Biology David Polley honored his retiring colleague Dr.
David Krohne
. "I think that all of us have come to know Dave through his photography and essays that have appeared in
Wabash Magazine
. Some of us have known him as a both friend and colleague, and we have enjoyed and benefited from our conversations with him about science and teaching. But the really lucky ones are his students, because they have known him as their teacher."
-
Dr. Michelle Pittard honored Teacher Education Administrative Assistance
Marcia Labbe
for her 22 years at Wabash. "Serving as administrative support for two divisions over her tenure, Marcia brought to her job professionalism, commitment, loyalty to the College and a good sense of humor. Marcia was well-respected for her expertise and straightforward approach."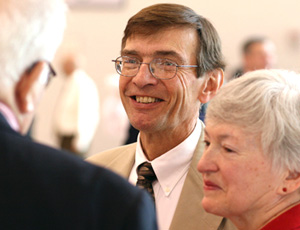 -
Professor of Mathematics Robert Foote recognized his colleague Dr.
David Maharry
who has been at Wabash since 1979. "He is an enthusiastic teacher, and has readily taken on new courses and engaged eager students in numerous independent studies. Even this year, when he was eligible for a last sabbatical, he volunteered to teach our pre-calculus course. Outside the classroom, Dave has been a campus leader. He has been division chair twice; the first time included much of the planning, building, and renovation of Hays and Goodrich."
-
Dean of the College Gary Phillips read a citation noting
Virginia Maharry's
22 years of service to Wabash. "Throughout a period of great transition in the life of the Library and the College, you have remained a steadfast presence in the Lilly Library keeping focus on the needs of the Gentlemen of Wabash, educating them and us in a host of ways. By the professionalism of your work, the dignity of your person, and kindness of your spirit, you have demonstrated time and again why you are such a valued and respected colleague and teacher, exemplary in your dependability and attention to detail."
-
Dean of Admissions Steve Klein honored long-time staff member
Michael Reidy
for his 32 years of service. "In our 13 years together Mike has generated 2,768 applications which have resulted in 549 young men enrolling at the College. Mike may have recruited in every territory and performed every office duty available."