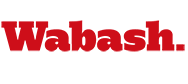 Staff-Faculty Honored at Awards Luncheon
by Jim Amidon

April 30, 2010

The Wabash College community gathered Friday for the First Annual Service Award Luncheon, which paid tribute to staff and faculty who have served the College from 10 to 40 years.

Chief Financial Officer Larry Griffith served as master of ceremonies and introduced staff and faculty with 10, 15, and 20 years of service. Griffith explained that this new event "melts together" several traditional recognition events and allowed staff and faculty to be celebrated together.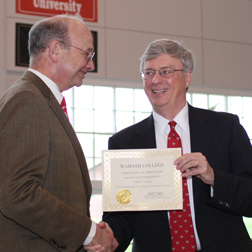 President Pat White, Dean Gary Phillips, Dean Joe Emmick, and CFO Griffith all introduced and paid tribute to staff and faculty with 25, 30, 35, and 40 years of service.
"This College is committed to the values of changing the lives of young men when they come to us at 19 and graduate four years later transformed by this experience," said President White (pictured with Bill Doemel). "We must be in the change business, but we also have to be in the patience business."
The President said that when he was a young distance runner in high school and college he began to see life for what it is — a long haul. He said colleges like Wabash have to see the educational process as a long process, which is why the dedication of long-serving staff and faculty is so critical to the College's mission.
"You who have served Wabash for one year or 40 have shown your loyalty to this mission of educating men to think critically, act responsibly, lead effectively, and live humanely. You have shown your loyalty to our students… We rely on your seeing far ahead and guiding us all forward as you guide our students."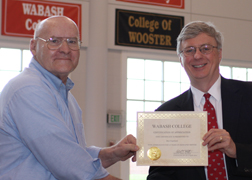 Recognized for 40 years of service were Bill Doemel, Operations Director of the Center of Inquiry in the Liberal Arts, and Campus Services employees Ron Copeland
(pictured left)
and Dean Waldon.
Rick Sommerville of Campus Services was saluted for 35 years with Wabash. Serving for 30 years are Debbie Bourff of the MAPS Office, and professors Doug Calisch (art), John Munford (biology), and Warren Rosenberg (English; pictured with Gary Phillips below).
Five members of the faculty and staff were honored for a quarter century of service, including John Culley of the Business Office; Chemistry Professor Rich Dallinger; Campus Services' Mike Griffith; Carolyn Harshbarger from Advancement; and Diane Norton of the Lilly Library staff.
"We are not perfect and we sometimes stumble," said President White. "But as the colleagues we celebrate today show us, the race is long, the road is difficult, but it is filled with reward and honor, and even laughter, joy, and appreciation. So I thank you today — all of you — for your work, your commitment to quality, for your generosity of spirit, your patience, and your loyalty."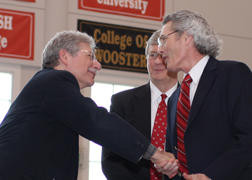 Honored for 20 years of serve were John Flaurr, Bob Foote (mathematics and computer science), Brian McCafferty (Lilly Library), Stephen Morillo (history), Brad Weaver (IT Services), and Stephen Webb (philosophy and religion).
Staff and faculty honored for 15 years of service were Michael Abbott (theater), Steve Charles (editor of Wabash Magazine), Steve Hester (Campus Services), Frank Stone (Campus Services), and David Timmerman (rhetoric).
Eleven members of the community were honored for 10 years of service, including Rita Arthur (Wabash Center), Heather Bazzani (Advancement), Doug Brinkerhoff (Advancement), Quentin Dodd (IT Services), Brent Harris (Advancement), Sherry Ross (Dean of Students Office), Bob Royalty (philosophy and religion), Tom Runge (Advancement), David Troutman (Advancement), Cathy VanArsdall (Business Office), and Rick Warner (history).