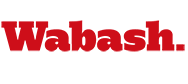 Cook '66 Delivers First Charles Lecture
by Howard Hewitt

April 27, 2010

Bruce Baker '65 has long believed legendary Wabash Professor Jack Charles deserved to be remembered as the outstanding teacher he was from 1940 through 1980.

In 1994, Baker — with help from Charles' former students across the country — published a Festschrift as a way of honoring the man who was by many accounts the quintessential liberal arts professor. That volume can be found in the Lilly Library (PA 26.C48 1994).

But Baker didn't stop there. To further honor Professor Charles, he established the John F. Charles Memorial Lecture with the idea that each year one of Charles' former students would speak on the topic of classics or world history.

Bill Cook '66, who has been a visiting professor at Wabash for the last two years, delivered the first talk Monday night.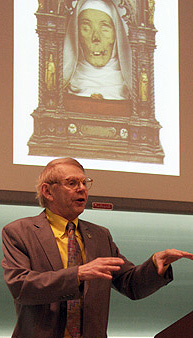 "Professor Charles was one of the monuments of my experience at Wabash," Baker said. "I loved his classes."
Baker learned the term 'Festschrift' as an 18-year-old Wabash man. Festschift is a writing connected to a festival, and pays tribute to a great scholar. In 1994, he began to speak with alumni across the country. "We have the head of the archeology department at Berkley and head of History at Emory; we have them everywhere. You couldn't swing a cat without hitting a former Charles' scholar who isn't doing something major. So we did a festschrift."
Still, there needed to be a true celebration of the esteemed professor. "Nobody had done a 'Fest' for Jack Charles," Baker said after the inaugural lecture Monday night. Baker's gift to the College will make the memorial lecture an annual event.
Professor Cook tapped into his knowledge of Medieval history and the Renaissance to deliver the story of the head of St. Catherine of Siena. Cook, with his usual mixture of humor, deep scholarship, and enthusiasm, held the large audience for nearly an hour weaving Catherine's story, the importance of relics, and Medieval history into a fascinating inaugural Charles lecture.
St. Catherine's head is on display at the Church of San Domenici in Siena, Italy. Cook lives in Siena part of each year and has taken students through the ancient city many times. "Before we make judgment on any of those folks we have to see the world through their eyes," he said. "We study historical figures and see what furniture they have and how they arrange that furniture. We try to get inside their heads."
Understanding the religious and historical figures helps us better understand religion and the world today, Cook offered. He suggested at the beginning and end that "teaching Medieval history is the most important job in the world."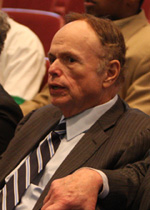 Baker would agree and believes Jack Charles would approve.
"One of the big experiences of our college careers was having major figures come from afar," Baker said. "One of them was Sir Steven Runicman. He was here for a week and taught a course. Professor Charles just forced his students to go."
Runciman was a historian known for his three-volume work on the history of the Crusades.
"Wabash has an unusual situation in that we have quite a few people in Classics when many small liberal arts colleges like Wabash have Classics departments that haven't prospered. So I thought a way of anchoring that experience was to develop a Charles lectureship. There are many former students of Professor Charles who could come and really do a great lecture."
Cook has taught at State University of New York at Geneseo since 1970, where he holds the title of Distinguished Teaching Professor. He is internationally known as a speaker, author, and authority on Medieval and Renaissance history.
Professor Cook has spent the past two years at Wabash but will return to New York at the conclusion of spring semester.