Wabash senior Mark Schultz has helped establish a new program at the College. Students in Free Enterprise (SIFE) provides opportunities for students to gain hands-on experience in business, leadership, and service.
SIFE is an international organization that brings together leaders in higher education and business "to mobilize" college students to make a difference in their communities.
This isn't just about developing the next generation of corporate CEOs; this program is about instilling in young people social responsibility and ethical leadership.
Schultz learned about the program from a friend while studying in Germany in his junior year. When he returned to campus, he founded the Wabash chapter of SIFE — one of over 1,500 active teams comprising 42,000 students operating in 40 countries.
Campus teams brainstorm ideas in six major areas of business leadership, and develop projects that will have an impact on the community. They also compete against other teams from around the world.
"The purpose of SIFE is to develop responsible business leaders through educational outreach projects aimed at helping the community," Schultz said. "This gives us practical experience working in groups and leading one another. We're developing ideas and projects on our own, and that practical, hands-on experience helps us."
Areas of focus include Market Economics; Success Skills; Entrepreneurship; Financial Literacy; Environmental Sustainability; and Business Ethics. Schultz's Wabash team also added a seventh concern — sustainability of the team here on campus.
In getting started, Schultz and his teammates reached out to Scott Crawford and the staff of the career center and LaToshia Everson in the Wabash Financial Aid Office. Professor Christie Byun has also been helpful as an advisor.
The Wabash students identified problems in the community and developed plans and projects to address them, building leadership skills and civic responsibility along the way.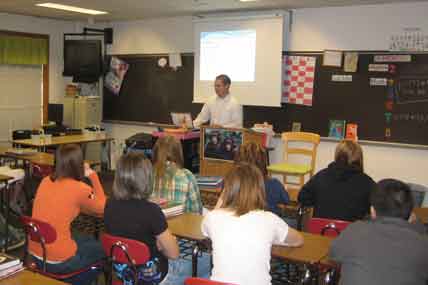 For example, new regulations require public schools to offer educational programs in basic economics. Wabash's SIFE team targeted a Lafayette middle school and developed a two-day "Market Economics" program (during math class) to teach students about supply and demand.
"We used products like an X-Box 360 to help students understand how they [as consumers] impact price levels," said Schultz, an economics major from Fort Wayne. "In our second trip, we taught students the function of money and who determines the amount of money in the U.S. We gave the kids a quiz before and after the program. Before the lesson, the average score was 28%. After our presentation, the average score rose to 78%."
In another activity, SIFE students tackled the problem that hammers so many college students — credit card debt and student loans. In a "Financial Literacy" program, SIFE tapped LaToshia Everson to present a three-part workshop that covered credit cards, debt, and investment.
The group's initiative has garnered the respect of Crawford in the Schroeder Center for Career Development.
"We in Career Services are always pleased to see students create campus organizations that help them develop their career goals and skills," Crawford said. "I am familiar with SIFE on a national level, and know the organization does a great job at preparing students to tackle real-life business issues, and I am excited to have a chapter here at Wabash."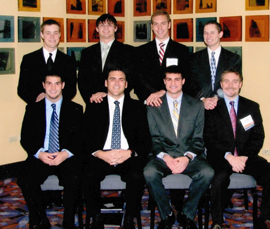 Wabash's SIFE team also got some attention at a 60-team regional competition in Chicago. Schultz and seven other team members were honored with the "Rookie of the Year" award and also received a first runner-up in the league competition.
"Another motivation for starting SIFE here at Wabash was the competition in Chicago," Schultz said. "Along with the competition, there is a huge job fair with large employers who wouldn't normally target a school like Wabash to recruit future employees. SIFE gave us access."
Schultz got a job offer solely through his work with SIFE. He turned it down to hop on the management track at CIGNA, a large health insurance company.
One of the most visible and successful projects was initiated in the "Environmental Sustainability" category. SIFE team members put aluminum can recycling collectors in student living units. Getting the students to compete over the course of a month, the team collected 130 large (and very full) bags of what would have ended up in a landfill.
Schultz has spent time recently developing sustainability of SIFE at Wabash. He's handed off president's duties to Josh Raspopovich, and SIFE has now become linked to the College's Business Leaders Program.
"My main goal was to get things started on campus and in the community, and I think we've done that," Schultz said. "I look forward to seeing what the other guys can contribute to make SIFE at Wabash even stronger."