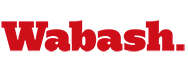 Professor Blix '70 Shares Stories About His Father
by Howard W. Hewitt

April 22, 2010

Professor of Religion Dr. David Blix drew a larger-than-usual crowd Thursday to the last Chapel talk of this school year. Blix shared a personal story of how he became closer to his father.

Watch the Blix Chapel Talk on Wabash College's YouTube channel. Or, watch the talk in the window below.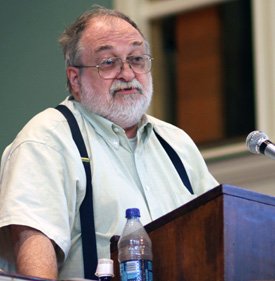 Blix, who received a rousing reception when introduced and standing ovation when he concluded, started his talk with comparisons to Homer's Odyssey. He transitioned by explaining his Chapel talk was a simple story of one man's search for his father.
Blix grew up Ladoga, just 15 mile southwest of the Wabash campus. He graduated from Wabash and has taught in the religion department for 18 years. His father was a physician, trained in Chicago, but located in Montgomery County.
So his father was often not home much while young David was growing up. The doctor was off seeing patients in the days of house calls and working at Culver Hospital. Blix said his father was not distant when he was a child just away much of the time. As he grew older, Blix realized he didn't know his father well.
Then when he returned in 1988 to teach at Wabash he started to hear heart-warming and funny stories of his father's time in Montgomery County. The more stories he heard, the more he got to know his Dad.
"It revealed a man I had not known but turned out to be something different than I'd ever expected," Blix said. "I learned he was a wonderful human and compassionate man who helped many people in many ways and often without being asked."
Dr. Fred Blix and his wife live in Zionsville. David has two sisters and a brother.