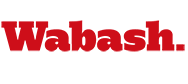 The Tempest Continues Thru Saturday
April 16, 2010

Get directions to Wabash College Fine Arts Center

A large and appreciative audience gave the cast of The Tempest a standing ovation on opening night, a tribute to the actors, designers, and directors who brought to life the classic Shakespearean play. The Tempest continues through Saturday night.

Performances will be held in the Ball Theater in the Fine Arts Center and begin at 8 p.m. each evening.

This joyous play, the last of Shakespeare's extraordinary career written 400 years ago, sums up his stagecraft with a display of seemingly effortless skill.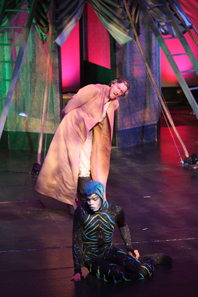 Prospero (played brilliantly by Assistant Professor of Theater Jim Cherry), is the exiled Duke of Milan, living on an enchanted island far from civilization after a boat carrying him and his daughter runs ashore. There on the island, Prospero has the opportunity to punish and forgive his enemies. He summons the spirit Ariel, who has been imprisoned in a tree, and then uses Ariel's sorcery for his service.
Prospero raises a tempest to forestall a rebellion, to arrange the meeting of his daughter, Miranda, with an eminently suitable young prince, and, more important, to relinquish his magic powers in recognition of his advancing age.
It's a play richly filled with music and magic, romance and comedy, the play's theme of love and reconciliation offers a splendid feast for the senses and the heart.
Directed by Associate Professor of Theater, Michael Abbott with senior Cody Grady serving as co-director and stage manager, the Wabash production of The Tempest is indeed a feast for the senses.
Abbott and Grady's vision is brought to life in stunning visuals, including scene design by James Gross and lighting design by Laura Glover. Andrea Bear does an exceptional job costuming the show with everything from rags to tuxes, and Spencer Elliott's sound and music creates a perfect environment for the retelling of one of Shakespeare's biggest plays.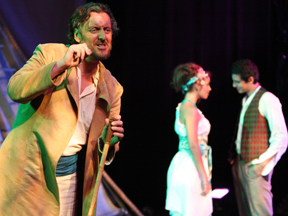 Cherry owns the leading role of Prospero, which he delivers with an equal balance of rage and compassion. Local high school student and Vanity Theater veteran Jennifer Peacock stars as Miranda, Prospero's daughter, and seems quite at home on the Wabash stage.
Many parts are small, but all of the actors turn those roles into memorable performances. Jamie Blue is haunting as Ariel as he creeps around the stage (and up the walls of Ball Theater). The role of Trinculo is vintage Luke Robbins, and Spencer Elliott is — once again — flawless as Antonio.
Grady, a senior who has spent most of his career backstage as properties master, stage manager, and technical director, was thrilled to be invited to co-direct the show with one of his mentors, Professor Abbott.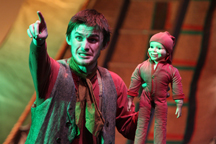 "I must really thank Mike for allowing me to direct this piece with him," said Grady. "It's the first time he and I have worked so closely together since my freshman year, and it was easy to start syncing up when it came to the direction of the play. What the audience will see is not what Mike or I envisioned to begin with, but it is stronger because it has grown well beyond those early daydreams."
Grady has been most impressed by the evolution of the show.
"If I had to describe this production in one word, it would have to be collaboration," Grady said. "Theatre is inherently cooperative, and Wabash's department works very well together on a regular basis. With a show this ambitious (both technically and the fact that its a classic theatre piece), everyone really had to come together to pull this off... all the actors have been great to work with; every night we reinvent the show, and each night it is better whether that be from adding a tech aspect, on the suggestion from an actor, or direction from Mike or myself."
The cast also includes Tyler Griffin as Alonso, Zachary Thompson as Sebastian, Raynor Mendoza as Ferdinand, Gus McKinney as Gonzalo, Reed Hepburn as Adrian, Craig Vetor as Caliban, Alex Avtgis as Stephano, Steve Zajac as Boatswain, Gregory Huey as Master, and Michael Wright, Gregory Huey, and Mike Gough as spirits and mariners. Rhetoric Professor Jennifer Abbott choreographed the production.
Seating for Theater productions will be by general admission, though free tickets are required for Theater productions.
For tickets contact the Fine Arts Center Box Office by email at
boxoffice@wabash.edu
; phone: 765-361-6411. Box Office hours are Monday through Friday, 8:30 a.m. to 12 noon and 1:30 to 4 p.m. The box office will open 90 minutes before curtain time. Tickets not claimed at the Box Office 10 minutes prior to curtain will be released to the general public.