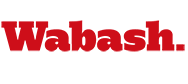 Lares' Heroics Give Wabash 8-7 Win
by Brent Harris

April 14, 2010

A walk-off double by Brian Lares in the bottom of the ninth inning scored PJ Tyson from second to give Wabash an 8-7 win over DePauw Wednesday night at Mud Hollow Field.

Tyson tied the game with his single, scoring Dave Seibel after the junior third baseman opened the inning with a bloop single to right center. Joe Johnson laid down a perfect sacrifice bunt down the first base line to move Seibel to second. Tyson moved to second on the throw home in an attempt to throw out Seibel at the plate, setting up the final hit of the game for Lares.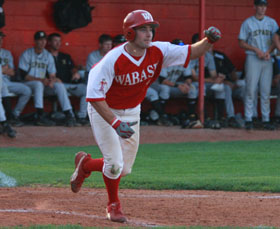 "Last year we were really dependent as a team on (Matt) Dodaro and (Jake) Thomas," Lares said. "This year everyone in our lineup --- one through nine --- can hurt you. If you look at our individual numbers, we have two players with more than 40 hits and five with more than 30. Someone will make that key hit. It doesn't matter where you bat in the lineup. Tonight it was the six, seven, and eight, and nine hitters doing their job and getting on base.
"There was no pressure on me when I came to the plate. The pressure was all on DePauw. Seibel, Johnson, and Tyson set the table. I got a pitch to hit, and just did my part."
The Tigers took an early 2-0 lead before Wabash answered with a run in the first when Johnson's sacrifice fly scored Chris Deig. The Little Giants scored three runs in the third on two DePauw errors and a wild pitch with only one hit by Seibel to take a 4-3 lead.
DePauw rallied for five runs in the fourth before the Wabash relievers shut down the Tigers' bats over the final five innings. DePauw was held to two hits over the final five innings. Chris Widup worked the fifth inning, surrendering one hit and two walks before an inning-ending double play with the bases loaded finished the Tigers' scoring threat. Pete Schmith allowed a hit and a walk in a scoreless sixth inning, while Brian Van Duyn walked two and struck out one in the seventh.
Andrew Swart was perfect in the eighth, throwing a total of 12 pitches to record two strikeouts and a foul out to Seibel at third.
Luke Zinsmaster picked up his second win of the season in relief, needing just 16 pitches to retire the Tigers in the ninth, giving up one walk while striking out one. Freshman Blake Mattingly started, going four innings with eight hits, seven earned runs, three walks, and four strikeouts.
While the Wabash pitching staff held DePauw in check in the late innings, the Little Giants battled their way back from a three-run deficit.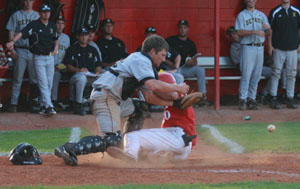 Wabash picked up a run in the fourth on back-to-back singles, followed by a double-play ground out that scored Tyson. Tyson was hit by pitch to open the eighth inning, moving to third on a single by Lares, and eventually drawing the Little Giants to within a run on a single by John Pennington. Wabash would load the bases with no outs in the eighth, but two straight strikeouts and a line out to third ended the threat.
Lares and Seibel each finished with three hits to pace the Wabash offense. Pennington had two RBI to go with two hits, while Tanner Coggins and Tyson each also finished with two hits. The Little Giants outhit DePauw 13-10 in the final box score.
Wabash (16-15) returns to North Coast Athletic Conference action this weekend with an important four-game series against Denison University.
"This gives us some good momentum going into the Denison series, especially after a disappointing late-inning loss at Earlham on Sunday," Head Coach Cory Stevens said. "I thought our guys battled tonight. We never lost focus being down for a majority of the game. We did what we had to do to win, not just swinging the bats but doing the little things like getting runners over with sac bunts and just playing heads-up baseball. Those are the same things we need to do this weekend against Denison."
The Little Giants and Denison begin the series with two games Saturday at Mud Hollow Field beginning at 1 p.m. The two teams meet again Sunday afternoon beginning with the first of two seven-inning contests at 1 p.m.
Photos - (top left) Brian Lares celebrates as he watches his ninth-inning hit sail down the right field line to give Wabash an 8-7 victory over DePauw.
(Bottom right) David Seibel slides home ahead of the baseball to score the game-tying run, setting up Lares' heroics in the ninth.
Photos by Alex Moseman '11
Game Stats