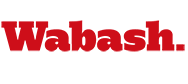 Wabash Honors Crook with Peck Medal
by Greg Slisz '10

April 14, 2010

This year's winner of the David W. Peck Senior Medal, John Crook '69, spoke yesterday afternoon before a full house in Baxter 101. His lecture, "International Law Matters," addressed the many reasons why international law is both relevant and necessary in today's world.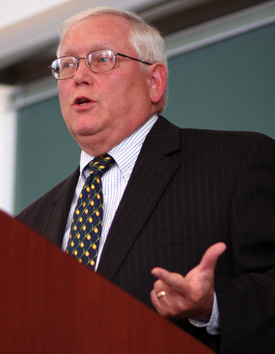 Crook's lecture was followed by the David W. Peck Banquet, at which the 1969 graduate was honored. Pre-Law students were also honored for excellence at the event, which was attended by a host of alumni lawyers.
See more photos from the evening and all of the award winners here.
Crook, who currently does consulting work in addition to teaching at George Washington Law School, began the afternoon talk by paying homage to the man for whom his award was named. Judge David Peck '22, Crook said, was "A great lawyer, a great friend of the College, and a great specimen of the liberally educated man."
Although Peck was one of the great lawyers in Wabash history, finishing law school by age 22 and becoming a partner in the prestigious New York law firm Sullivan and Cromwell by age 31, he also had a variety of outside interests. Peck, Crook said, was also an avid Brooklyn Dodgers fan and greatly appreciated a good Burgundy.
Crook then told the audience his own unique story, beginning with the year of his graduation, which happened to coincide with the Vietnam War. "I was quite healthy, and my lottery number was 55. David Kendall ('66) said, 'You can join ROTC at Yale law school.' So I did."
Despite graduating from Yale, Crook still found it difficult to get a job, as potential employers were worried that he may get called off to active duty. Crook finally found a job with the state department, in no small part due to a Wabash study abroad experience.
"They seemed to be impressed that I had spent the summer of '68 hitchhiking around Yugoslavia," Crook joked as he explained the summer exchange program. "Somehow the State Department thought that was relevant."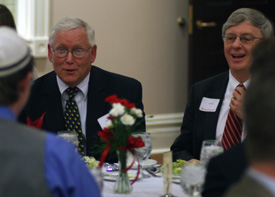 Crook's career with the State Department took him all over the globe. He served as the US legal representative on the first trade agreement with China, arbitrated legal claims with Iran, and even served as the US legal representative for the Reagan-Gorbachev treaties with Russia. "I handed Reagan the pen," Crook said, jokingly.
After sharing the highlights of his past work, Crook explained why he believed that international law was so important. "I have been involved in a lot of situations where law and legal mechanisms have increased aggregate good and order in country," Crook said.
Unfortunately, many of the current political structures in place do not always grasp this idea. "There has been a steady erosion of international law and regimes by political institutions," Crook added.
While recent polls, Crook said, have indicated that two-thirds of Americans believe that international laws and the following of such laws, is good, recent examples, such as the waterboarding scandal, show that many in of those recently in power have thought otherwise.
Although many may think of international law in grand terms and controversial issues, Crook quickly returned the lecture to matters relevant to everyone in the room. "Consider the hour of this lecture. We live in a world where time is basically harmonious," Crook said, as he mentioned that time zones are standardized, with Greenwich Time functioning as the official time for the entire world.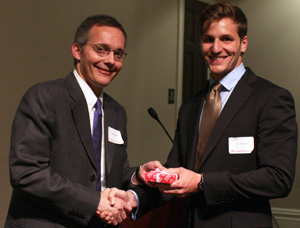 Crook continued to explain a number of facets of everyday life, all created by international law. Everything from an international postal service, brake lights and headlights in the same color and place, standardized traffic sign shapes, and even regulating English as the international language of air travel.
As a final justification for why international law matters on larger, more complex matters, Crook offered a different explanation.
"When states resort to force, they go to great lengths to explain why what they are doing is legal," Crook said, citing the US's declaration of a suspicion of weapons of mass destruction when it invaded Iraq several years ago.
"If [international law] doesn't matter, why do states work so hard to point to themselves as being on the right side of the law?" Crook said, adding that this proof of legality was especially crucial for democratic countries to maintain their international standing.
Ultimately, Crook stated that countries followed international law because, just like the rules of the road, it "is a mutually beneficial thing to do."
The David W. Peck Senior Medal is presented during the David W. Peck Awards Banquet, which has been held annually since 1974.
In photos: Top right, Crook delivers his afternoon lecture. Center left, President White and John Crook interact with Wabash pre-law students. Lower right, Professor of Political Science and Pre-Law Advisor Scott Himsel presents Alex Ingram '10 the Junior Peck Medal.